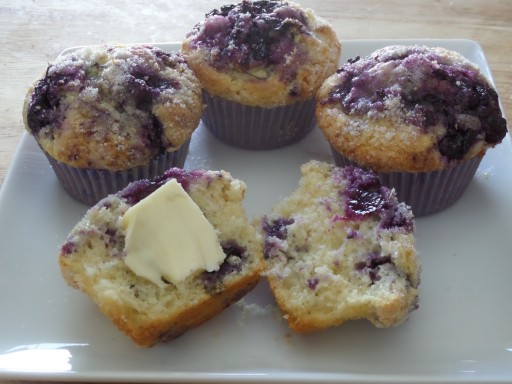 What better way to start a lazy Sunday morning, than with a fresh out of the oven, homemade blueberry muffin? Other than the fact that I was baking the muffins instead of having them prepared for me, probably nothing. This recipe comes from Cook's Illustrated, so it is a bit futsy, but the muffins are out of this world delicious. Way better than any boxed mix, and so worth the little bit of extra work.
I have a bit of a love affair with Costco. I am sure I am saving us hundred of dollars by spending hundreds of dollars there a month. But the produce is a thorn in my side. It is normally a really good deal and high quality, but there is a limit to how much we can eat before fruits and veggies go bad. I mean really, what does one do 12 mangoes? So I haven't bothered to purchase mangoes yet, but I have been buying these boxes of blueberries. It was like $7 for over a pound and Liam loves them. But toward the end of the week they start looking sad, not inedible sad, just not very tasty sad. So I decided it was the prefect opportunity for muffins.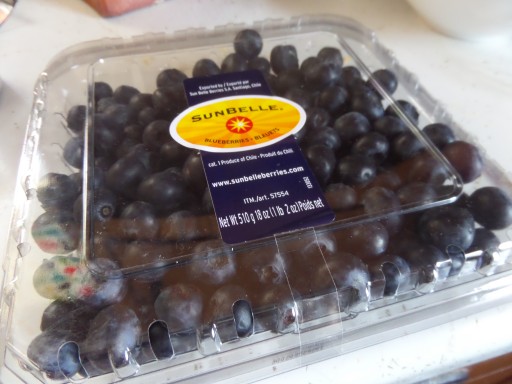 The key to this recipe is that you make a blueberry jam to swirl into each muffin, giving each bite a blast of blueberry flavor. So my less than stellar looking berries go into the jam, and I use fresher ones to leave whole in the muffins. The best of both worlds.
You start the jam by heating blueberries and sugar in a pot. It feels a bit weird stirring dry berries, but soon enough they start giving up their juices and it is easy to break them down with a spoon. I will warn you, everything will be purple when you are finished.
When the cooked blueberries reduce to about a quarter cup, remove from the heat and set aside to cool. Then start mixing up the muffin batter. The batter is pretty straight forward. Whisk the dry ingredients, whisk the sugar and wet ingredients, add blueberries, then fold the two together until just combined. I did this all by hand, no need to drag out the mixer.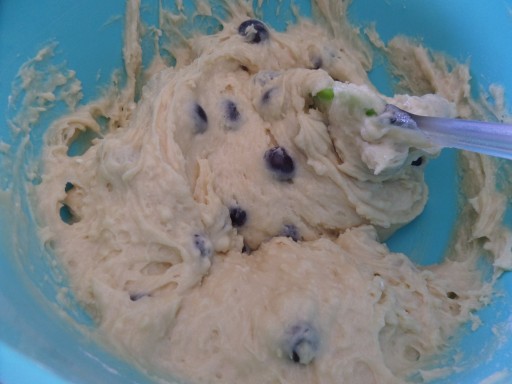 Then divide the batter among your muffin tins. I like to use liners to make it easy to get the muffins out. I used my cookie scoop to scoop the batter, about 2 1/2 scoops per muffin.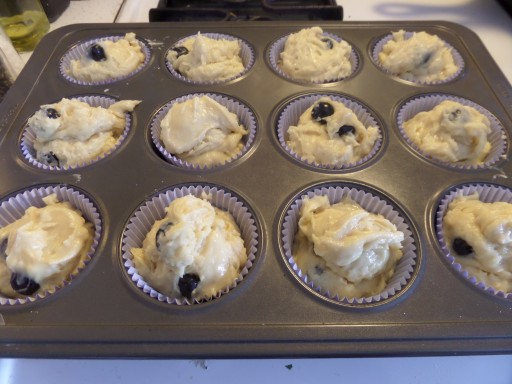 Now spoon a teaspoon of your cooked blueberries on top of each muffin and mix it into the batter using a skewer in a figure 8 motion. This is easier said than done, the whole blueberries in the batter get in the way of the swirling. My muffins ended up with more blueberry in the upper part of the muffin. They were still delicious, but I will have to try harder to swirl the jam to the bottom next time.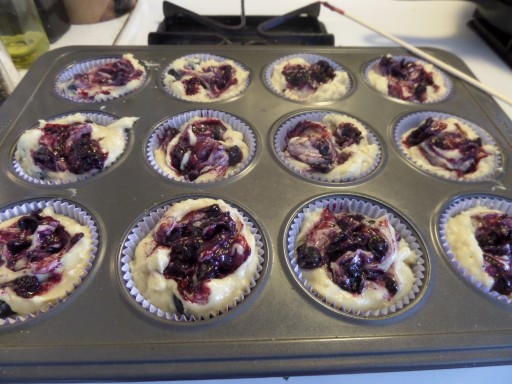 Then I topped the muffins with lemon sugar, which is just the zest from one lemon mixed with 1/3 cup of granulated sugar. It looked like a ton of sugar just dumped on top of the muffins, so I didn't use off of it, but I should have, it's delicious. The sugar melts while the muffins bake so the tops end up with a sweet/tart lemony crunch which balances perfectly with the sweetness of the muffins.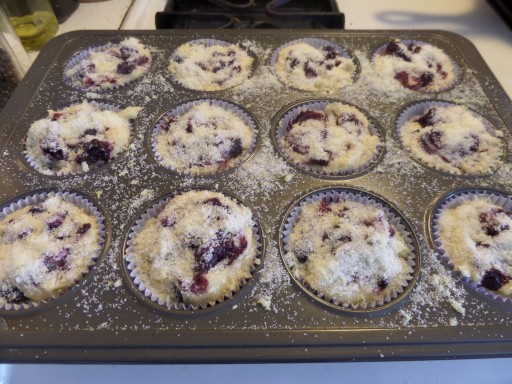 Then bake them at 425 degrees for 17 to 19 minutes or until the tops are golden. Here they are hot out of the oven. Let them cool for a bit before you eat them. It will be hard to wait, because they smell fantastic. Once the are cool enough to unwrap without burning your fingers, go ahead and dig in. I recommend eating them warm with a a bit of butter. Heaven.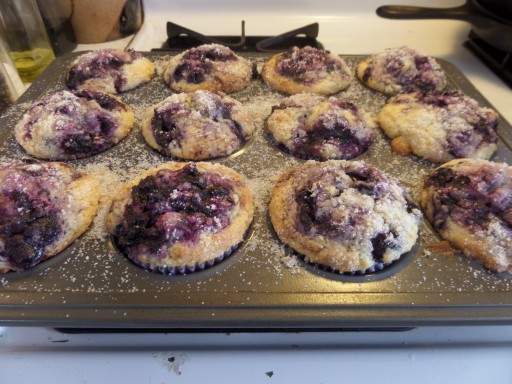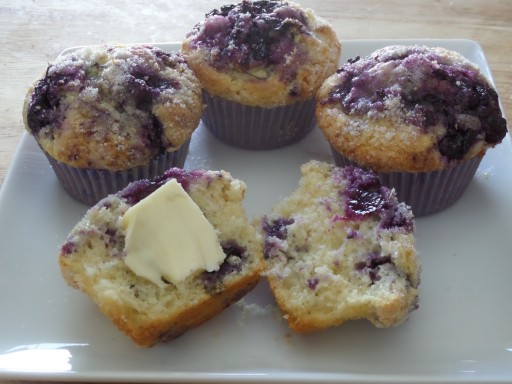 Blueberry Muffins
2014-02-25 16:03:12
Delicious blueberry muffins, way better than any mix.
For the topping
1/3 cup sugar (2 1/3 ounces)
1 1/2 teaspoons finely grated zest from 1 lemon
For the muffins
2 cups fresh blueberries (about 10 ounces), picked over
1 1/8 cups sugar (8 ounces) plus 1 teaspoon
2 1/2 cups unbleached all-purpose flour (12 1/2 ounces)
2 1/2 teaspoons baking powder
1 teaspoon table salt
2 large eggs
4 tablespoons (1/2 stick) unsalted butter , melted and cooled slightly
1/4 cup vegetable oil
1 cup buttermilk
1 1/2 teaspoons vanilla extract
FOR THE TOPPING
Stir together sugar and lemon zest in small bowl until combined; set aside.
FOR THE MUFFINS
Adjust oven rack to upper-middle position and heat oven to 425 degrees. Spray standard muffin tin with nonstick cooking spray. Bring 1 cup blueberries and 1 teaspoon sugar to simmer in small saucepan over medium heat. Cook, mashing berries with spoon several times and stirring frequently, until berries have broken down and mixture is thickened and reduced to ¼ cup, about 6 minutes. Transfer to small bowl and cool to room temperature, 10 to 15 minutes.
Whisk flour, baking powder, and salt together in large bowl. Whisk remaining 1 1/8 cups sugar and eggs together in medium bowl until thick and homogeneous, about 45 seconds. Slowly whisk in butter and oil until combined. Whisk in buttermilk and vanilla until combined. Using rubber spatula, fold egg mixture and remaining cup blueberries into flour mixture until just moistened. (Batter will be very lumpy with few spots of dry flour; do not overmix.)
Following photos below, use ice cream scoop or large spoon to divide batter equally among prepared muffin cups (batter should completely fill cups and mound slightly). Spoon teaspoon of cooked berry mixture into center of each mound of batter. Using chopstick or skewer, gently swirl berry filling into batter using figure-eight motion. Sprinkle lemon sugar evenly over muffins.
Bake until muffin tops are golden and just firm, 17 to 19 minutes, rotating muffin tin from front to back halfway through baking time. Cool muffins in muffin tin for 5 minutes, then transfer to wire rack and cool 5 minutes before serving.
Notes
Makes 12 standard muffins.
Adapted from Cook's Illustrated
Adapted from Cook's Illustrated
Crafty Cori Strikes Again http://craftycori.com/