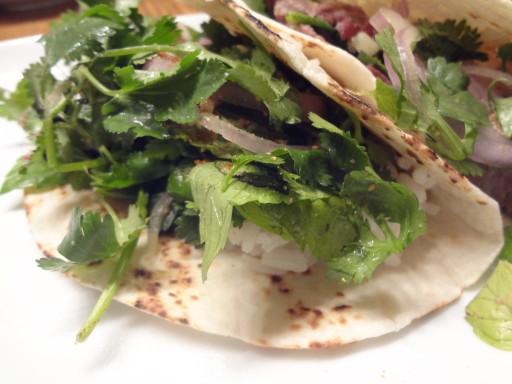 I am starving and I am craving these Thai Beef Tacos. They are one of my favorite foods. Of course it is -2 degrees outside and no one is going to grill me a steak, so my craving will have to be satiated at a later date, once the mercury breaks the freezing point again. Until then, I can dream about these tacos.
These tacos actually began life as Thai Grilled-Beef Salad from the lovely people at Cook's. And it is delicious in that form, though we had trouble convincing anyone else to try it. The greens in the salad are ciltranto and mint and when described to people I think they envisioned a little piece of meat on top of a big pile of mint leaves. I agree that doesn't sound so appetizing, I don't like mint that much either. In reality, it is a big pile of sliced steak, that happens to have some mint and cilantro leaves stuck to it, and that my friends, is darn tasty. So even though we couldn't convince anyone to share it with us, it became a regular rotation, especially once our garden took off and we had a bevy of fresh mint and cilantro.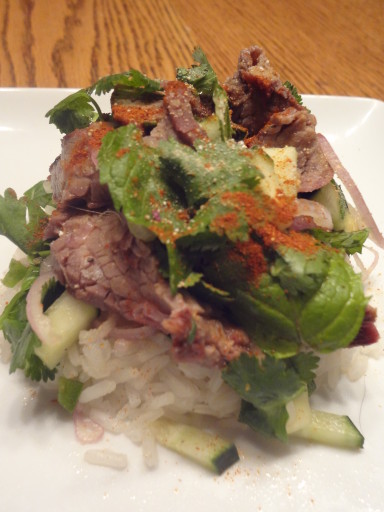 The original recipe served the "salad" on a plate of cucumber slices. Ryan decided he'd rather chop the cucumber smaller and mix it in the salad, then he decided he'd like it with some rice, so we added that. Of course the next logical step was to put the whole thing in a tortilla and call it a taco, because really, most things are better in taco form. I have no idea if the rice is authentic to Thai cuisine, and I'm sure the tacos aren't, but man, it is delicious. It really took a good recipe and made it one of my favorite menu items.
The recipe has a couple futzy steps, but that is normal for Cooks. It starts with toasting the spices to bring out their flavor. The next step is to toast rice, then grind it into a powder that is used as a garnish. They recommend a spice grinder, mini food processor, or mortar and pestle to grind the rice. I don't have a spice grinder and my mini food processor just spun the rice around without chopping it at all, but I had good luck with a coffee grinder.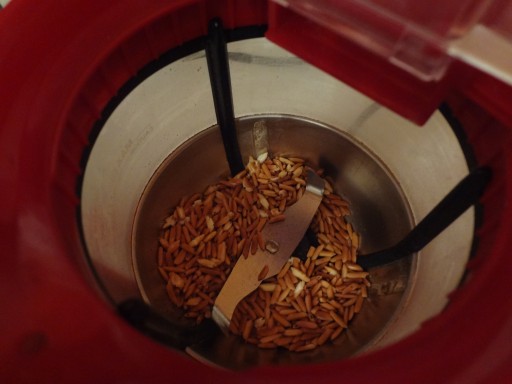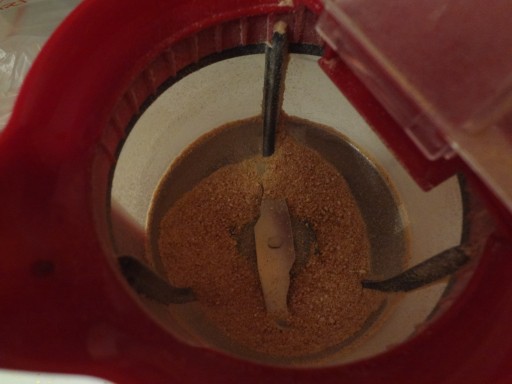 We (Ryan) grill the steak on a charcoal grill, because that's what we have. We've used different cuts of steak when flank steak gets spendy, but really, the flank steak has a lot better flavor. And please don't over cook it, it should be a perfect medium rare. The steak in the picture is overdone.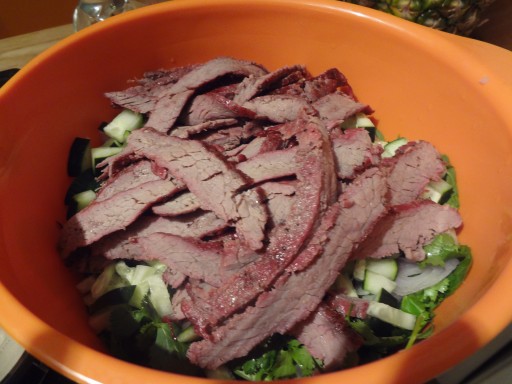 Of course it is optional, but I highly recommend grilling the tortillas for the tacos. Ryan's always done this and I thought it was a silly waste of time. Then he made me try it, instantly sold. The warm tortilla with a little sweetness from the char, it's fabulous. We have a gas range, so I we just turn it on and put the tortilla right on the burner. Let it cook for a few seconds until it just starts to get brown in spots, then turn it over with a tongs and grill the other side.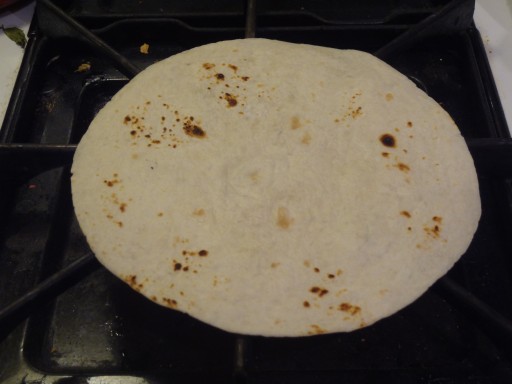 Once you have your warm tortilla, add some rice and a big pile of salad making sure get lots of steak. top with some paprika and rice powder. Delicious!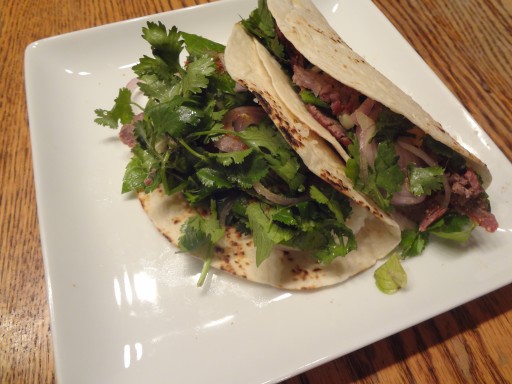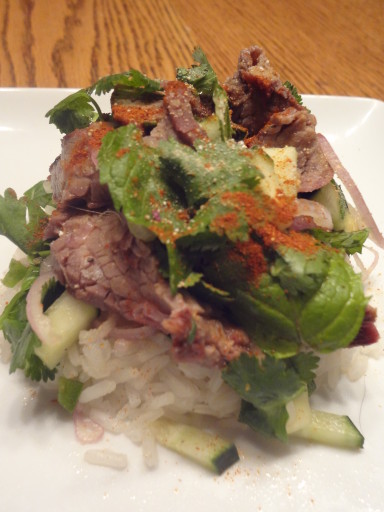 Thai Beef Tacos
2014-01-21 14:35:25
Grilled Thai Beef Salad made even more delicious by wrapping it in a tortilla with some jasmine rice.
Ingredients
1 cup jasmine rice
1 teaspoon sweet paprika
1 teaspoon cayenne pepper
1 tablespoon white rice
3 tablespoons lime juice(2 limes)
2 tablespoons fish sauce
2 tablespoons water
1/2 teaspoon sugar
1 (1 1/2 pound) flank steak, trimmed
Saltand white pepper, coarsely ground
4 shallots, sliced thin
1 1/2 cups fresh mint leaves, torn
1 1/2 cups fresh cilantro leaves
1 Thai chile or jalapeno if Thai chilies aren't available, stemmed, seeded, and roughly chopped
1 cucumber, diced
tortillas
Instructions
Prepare rice per package instructions.
Heat paprika and cayenne in 8-inch skillet over medium heat; cook, shaking pan, until fragrant, about 1 minute. Transfer to small bowl. Return now-empty skillet to medium-high heat, add rice, and toast, stirring frequently, until deep golden brown, about 5 minutes. Transfer to second small bowl and cool for 5 minutes. Grind rice with spice grinder, mini food processor, or mortar and pestle until it resembles fine meal, 10 to 30 seconds (you should have about 1 tablespoon rice powder).
Whisk lime juice, fish sauce, water, sugar, and 1/4 teaspoon toasted paprika mixture in large bowl and set aside.
FOR A CHARCOAL GRILL: Open bottom vent completely. Light large chimney starter filled with charcoal briquettes (6 quarts). When top coals are partially covered with ash, pour evenly over half of grill. Set cooking grate in place, cover, and open lid vent completely. Heat grill until hot, about 5 minutes.
FOR A GAS GRILL: Turn all burners to high, cover, and heat grill until hot, about 15 minutes. Leave primary burner on high and turn off other burner(s).
Clean and oil cooking grate. Season steak with salt and white pepper. Place steak over hot part of grill and cook until beginning to char and beads of moisture appear on outer edges of meat, 5 to 6 minutes. Flip steak and continue to cook on second side until charred and center registers 125 degrees, about 5 minutes longer. Transfer to plate, tent loosely with aluminum foil, and let rest for 5 to 10 minutes.
Slice meat, against grain, on bias into 1/4-inch-thick slices. Transfer sliced steak to bowl with fish sauce mixture. Add shallots, mint, cilantro, chile, cucumber and half of rice powder; toss to combine.
Prepare taco by filling tortilla with rice and beef salad mixture. Top with sprinkle of rice powder and toasted paprika mixture.
Notes
Grilling tortilla on burner of a gas range makes them extra delicious
Adapted from America's Test Kitchen
Adapted from America's Test Kitchen
Crafty Cori Strikes Again http://craftycori.com/