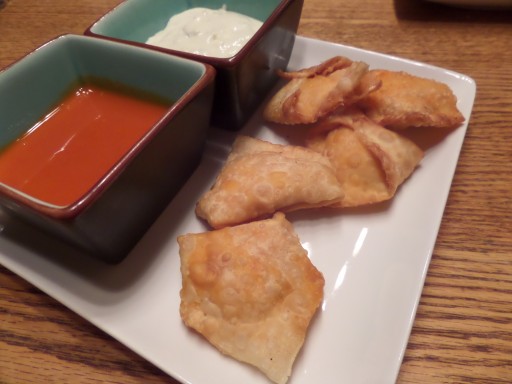 Have you checked out my recipe for Buffalo Chicken Dip and thought to yourself, "that sounds pretty good, but it's just not quite fattening enough?" How about wrapping it in a wonton wrapper, deep frying it, and then dipping it in blue cheese dressing? I can feel my arteries clogging just typing it out, but man is it tasty.
I am borrowing the name "bonton" from a local chain of restaurants called Bonfire. They are described on their menu as "Hand rolled pockets with gorgonzola, cream cheese, rotisserie chicken and hint of buffalo sauce; with sweet Thai chili sauce." Sounds delicious right? Due to my love of buffalo chicken everything, I had to order them, and they are really good. I still go there and order them sometimes when I have a craving. But Ryan and I agreed, the filling was remarkably similar to our beloved buffalo chicken dip. And since we aren't afraid to deep fry, we decided we'd try making them ourselves. And I think I like our imitation even better than the original.
We usually make these with buffalo chicken dip left over after a party, but you could certainly whip up a batch just for bontons. If you do, there would be no need to cook it before making the wontons. We start with about a tablespoon of buffalo chicken dip in the center of a wonton wrapper. Then fold it in half, making sure to seal the edges so you don't loose filling while they cook. Then fold the edges up into your favorite wonton shape.
Then deep fry until golden brown. Be sure to let them cool a bit before biting in. The filing is like molten hot lava when you first take them out of the fryer, but I'm always so excited and burn my mouth anyway. You can serve them with thai chili sauce like they do at Bonfire, or I actually prefer to double dip in wing sauce and blue cheese dressing. Because they weren't bad enough for me already. But I don't care, they are fabulously delicious.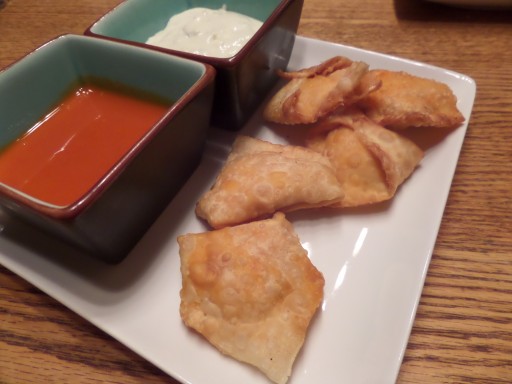 Bontons
2014-01-31 16:39:12
Deep fried wontons filled with buffalo chicken and cream cheese.
Ingredients
Prepared Buffalo Chicken Dip (see note)
Wonton Wrappers
Oil for frying
Instructions
Wrap 1 tablespoon buffalo chicken dip in a wonton wrapper, being careful to seal edges. Fold into a standard wonton shape. Continue filling wontons until you run out of dip.
Heat oil to 325 degrees. Deep fry wontons until golden brown. Drain on paper towels.
Serve with a side of Thai chili sauce or buffalo wing sauce and blue cheese dressing.
Notes
Recipe for buffalo chicken dip can be found here: http://craftycori.com/2014/01/buffalo-chicken-dip.
This recipe is great for left over dip, but if you are making dip from scratch just for bontons, you can skip baking the dip before filling the wontons.
These freeze well, so if you have more than you can eat in one sitting, freeze them and fry them up when you need a quick bonton fix.
Crafty Cori Strikes Again http://craftycori.com/