As we bid farewell to 2013 and usher in 2014 I want to wish everyone a happy and safe New Year's Eve. We have an exciting night of TV and baby cuddles planned, which is exactly how I prefer to ring in my new year. But to make the night at least a little special, Ryan cooked us a New Year's Eve dinner from a new cook book my sister gave him for Christmas. May I present to you, Prawn and Chorizo Paella.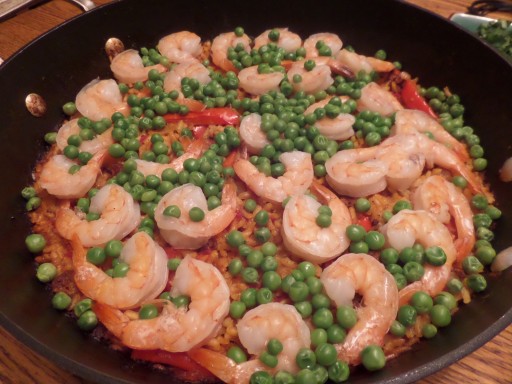 This recipe comes from Great Pub Food by Rachael Lane. As you might imagine, the book contains recipes for making dishes you'd find in an English pub. Some of the ingredients might be a bit hard to find here and some are called by unfamiliar names (so in the UK they call bell peppers, capsicums, who knew?), but if this recipe is any indication of the rest of them, the food is delicious. This paella was definitely worth eating.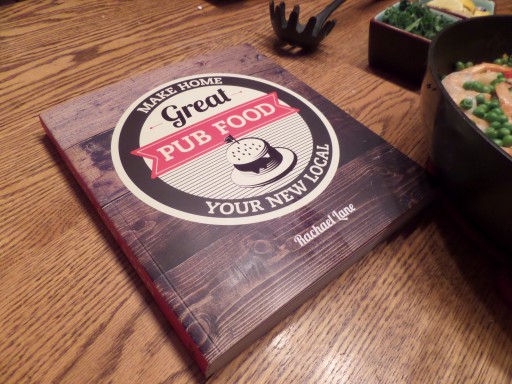 A couple notes on the recipe. It says to cut the chorizo into rounds and cook it, but the chorizo we can buy here won't hold it shape if you cut it before you cook it. Apparently it is the difference between Spanish and Mexican style chorizo. Anyway, Ryan took it out of the casing and browned it like hamburger instead, it seems to have worked. It also calls for saffron, which is stupidly expensive. We got 2 grams for $17, but you only need a pinch so $17 buys you enough for many, many batches. Still, it's a lot of money to pony up up front if you aren't sure you are going to love the recipe.
We also decided to serve this with a lemon aioli we borrowed from a paella-esque shrimp pasta recipe from America's Test Kitchen. The creamy, garlicky, lemony goodness ties the flavors together perfectly. The paella is good, the addition of the aioli makes it divine.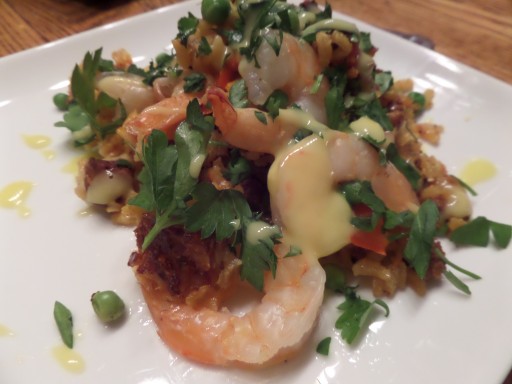 So without further ado, here is the recipe.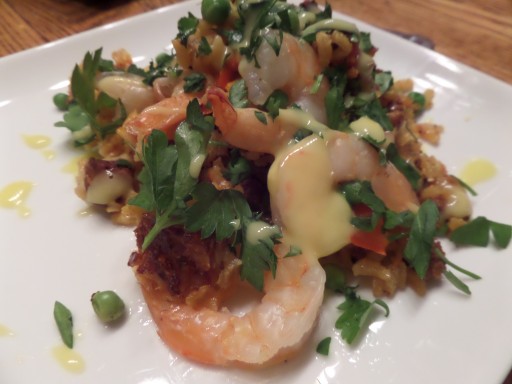 Prawn and Chorizo Paella
2013-12-31 21:16:25
For the Paella
4 cups chicken stock
pinch of saffron threads
3 tablespoons olive oil
2 chorizo sausages
1 onion, diced
3 garlic cloves, finely chopped
1 - 28 oz can of whole tomatoes, drained
1 red bell pepper, sliced
2 teaspoons smoked paprika
2 cups medium grained rice, such as arborio
sea salt and freshly ground black pepper
14 oz raw large shrimp or prawns, peeled with tails left of
1 cup frozen peas
small handful flat-leaf (Italian) parsley, chopped
lemon wedges
For the Lemon Aioli
2 large egg yolks
1 garlic clove, minced
4 teaspoons lemon juice
1/2 teaspoon salt
1/4 teaspoon sugar
3/4 cup olive oil
Instructions
Combine the stock and saffron threads in a saucepan and bring to a boil. Remove from heat and set aside for 5 minutes, to infuse.
Heat 1 tablespoon of the oil in a large frying pan over medium-high heat. Cook the chorizo until golden-brown. Transfer to a bowl and set aside.
Reduce the heat to medium-low, add the remaining oil to the pan and cook the onion and garlic, until softened. Add the drained tomatoes, bell pepper and paprika and cook until the liquid has evaporated. Return the chorizo to the pan, add the rice and stir to combine. Pour in the infused stock and bring to a boil. Season with salt and pepper. Reduce the heat further to a gentle simmer, cover and cook, without stirring, for 15 minutes.
Arrange the prawns on top and scatter with peas, cover and cook for a further 5-10 minutes, until the rice is tender, the liquid has been absorbed and the prawns are cooked. Turn off the heat and let stand for 5 minutes before serving.
Prepare the aioli. In a medium bowl, mix egg yolks, garlic, lemon juice, salt and sugar. Slowly whisk in olive oil until incorporated.
Sprinkle paella with parsley and serve with aioli and lemon wedges.
Adapted from Great Pub Food
Adapted from Great Pub Food
Crafty Cori Strikes Again http://craftycori.com/