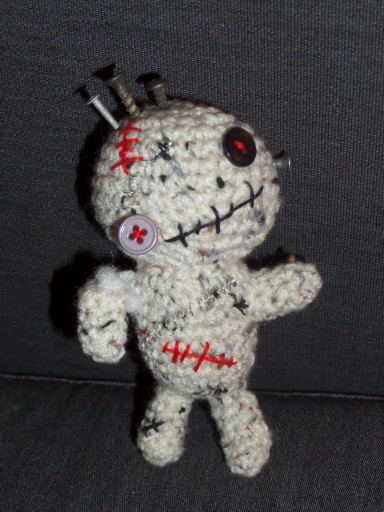 What do you crochet for an 8 or 10 year old boy that they won't think is totally lame? I'm not sure I know the answer, but my best attempt was this amigurumi zombie robot. I think he's pretty cute, and he has screws and nails sticking out of his head, what 10 year old boy can't think of a good use for loose rusty nails?
Unfortunately this is another purchased pattern, so I can't share it. It comes from Crobots! by Nelly Pailloux. Ryan first saw this book at Barnes and Noble years ago and asked me to make him a crocheted robot. This is before I knew how to crochet. I agreed that if he bought the book, I'd figure it out. And I did. The zombie robot was the first thing he wanted from the book and his has been living on his desk at work ever since.
The only thing I changed about any of the patterns in this book is the yarn and hook. The robots are meant to be tiny and use sport weight yarn and call for a C2 hook. I don't do things that small and never buy sport weight yarn. So I make them with worsted weight yarn and a F hook. They always come out super cute, and they are still small toys, 6-8 inches tall maybe.
Here's a couple more shots of the zombie. His right eye is dangling by a spring, his one arm is holding on by a thread and he has some nasty looking scars. Clearly he's been through a lot, but then again, he is a zombie robot.