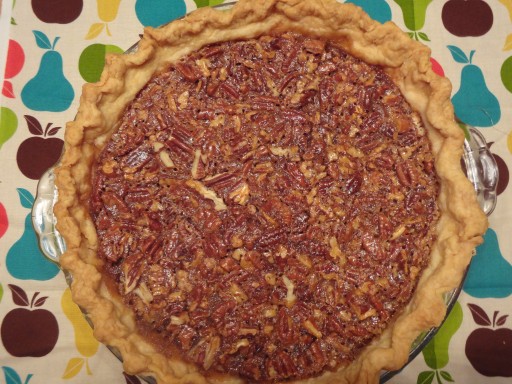 This recipe comes from Cook's Country, by the folks at Cook's Illustrated, so I had high hopes for it. And it isn't awful, but it is way too sweet. Maybe that is just the nature of pecan pie. The Old Fashioned part of the name comes from the fact that it uses maple syrup instead of corn syrup in an attempted to mimic the pecan pies of old, before it became synonymous with Karo.
For the crust I used Cook's Foolproof Pie Dough. Since it only takes a single crust, I halved the recipe. I made it the night before so it was nice and cold and ready to roll out when I was ready to start the pie. That's when I realized I had no idea how to roll pie dough out into a circle, but I eventually managed. Good thing the dough is forgiving. I used my thumb and forefinger and the thumb on the opposite hand to do the "decorative edge". It might not be pretty, but it worked. Put the crust in the fridge to chill while you prepare the filling.
Next I toasted the pecans. I find the easiest way to do this is to arrange them in a single layer on a rimmed baking sheet and put them in the over for a few minutes while it preheats. It should be preheating to 450 by the way. Somewhere around 5 minutes should do it, you can tell their ready because they become very fragrant. Or just taste one.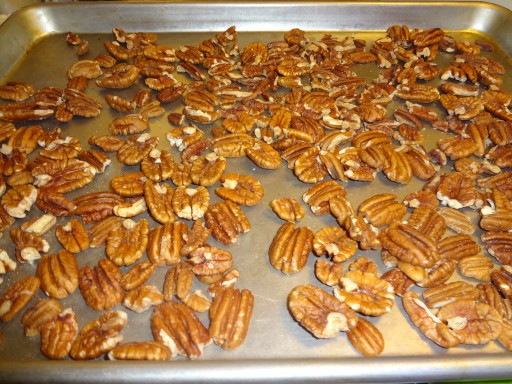 Now for the filling. Melt the sugar, maple syrup, cream and molasses in a saucepan over medium heat until the sugar dissolves. Remove from heat and let cool for 5 minutes. Whisk in butter and salt until the butter melts, then whisk in the eggs until fully combined.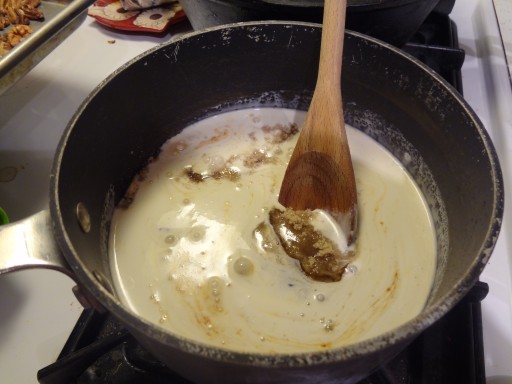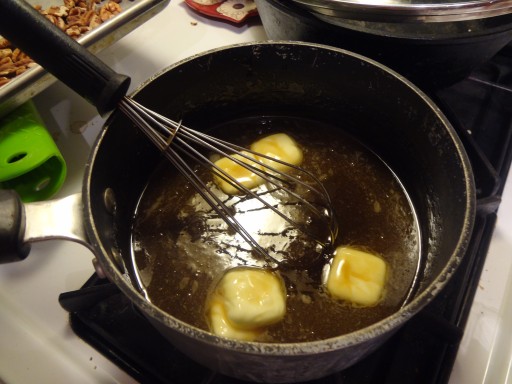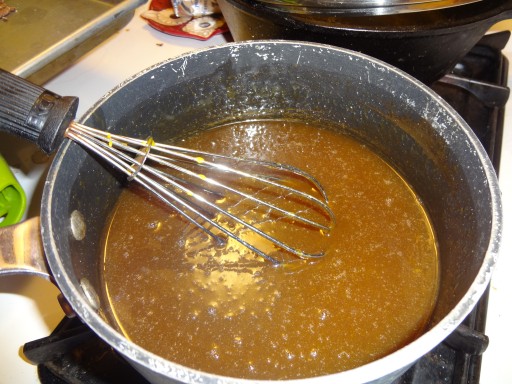 Give the toasted pecans a rough chop, then sprinkle them in the pie crust. Pour the filling over the pecans.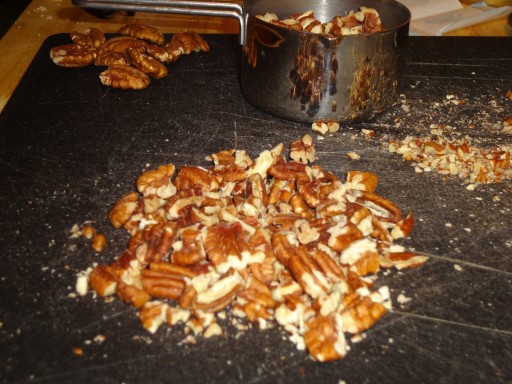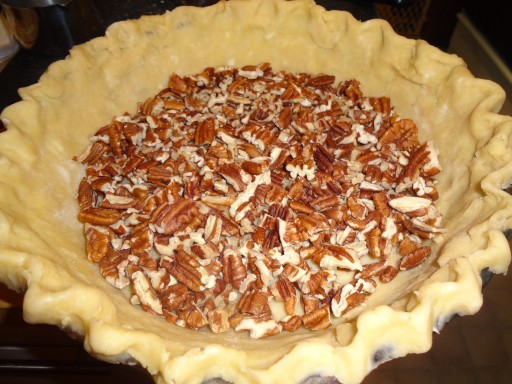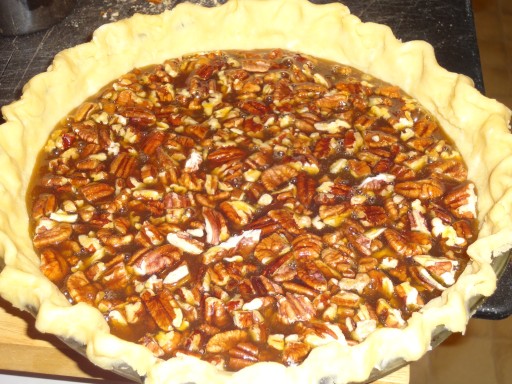 Place the pie in the oven and immediately lower the temp to 325. Bake until the filling is set, 45 – 60 minutes. I let it bake the whole 60 minutes. Before that, the crust didn't seem brown enough. Let the pie cool on a rack for 1 hour, then refrigerate. Bring to room temperature before serving.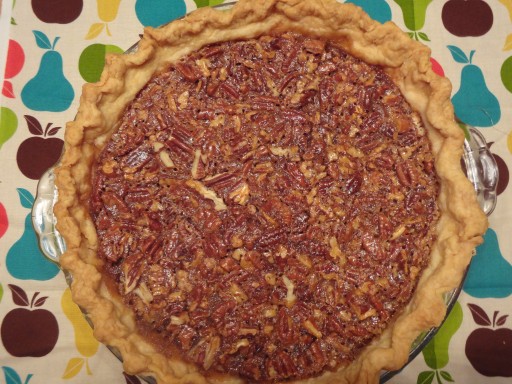 Old Fashioned Pecan Pie
2013-11-30 22:17:25
Pecan Pie without the corn syrup
Ingredients
1 cup maple syrup
1 cup packed light brown sugar
1/2 cup heavy cream
1 tablespoon molasses
4 tablespoons unsalted butter, cut into 1/2-inch pieces
1/2 teaspoon Salt
6 large egg yolks, lightly beaten
1 1/2 cups toasted and chopped pecans
1 (9-inch) unbaked pie shell (see note), chilled in pie plate for 30 minutes
Instructions
Make Filling: Adjust oven rack to lowest position and heat oven to 450 degrees. Heat sugar, syrup, cream, and molasses in saucepan over medium heat, stirring occasionally, until sugar dissolves, about 3 minutes. Remove from heat and let cool 5 minutes. Whisk butter and salt into syrup mixture until combined. Whisk in egg yolks until incorporated.
Bake Pie: Scatter pecans in pie shell. Carefully pour filling over. Place pie in hot oven and immediately reduce oven temperature to 325 degrees. Bake until filling is set and center jiggles slightly when pie is gently shaken, 45 to 60 minutes. Cool pie on rack for 1 hour, then refrigerate until set, about 3 hours and up to 1 day. Bring to room temperature before serving.
Adapted from Cook's Country
Crafty Cori Strikes Again http://craftycori.com/