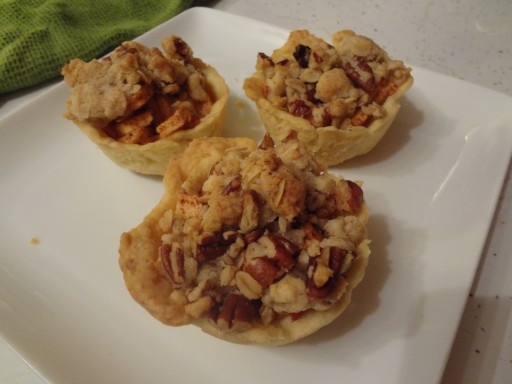 I love fall and one of the things I love about fall is fall baking. All the warm spices, cinnamon, nutmeg, ginger, cloves. Pumpkins and apples and pecans in everything. It's wonderful. In anticipation for my fall baking bonanza, I had purchased a bunch of my favorite baking apples, Harlasons, when we were at the orchard. But that was almost a month ago and they were sitting in the refrigerator untouched. Ryan announced that I had to do something with them before they rotted, so it seemed like the perfect time to try out another Pinterest recipe, Mini Apple Pies, baked in muffin pans.
The first obstacle I ran into was pie dough. I had never made my my own pie crusts. I don't usually make pies and when I do, I buy crusts. I'll admit it, I was afraid of pie dough. But not anymore, thanks to the wonderful people at Cook's Illustrated and their Foolproof Pie Dough recipe. It uses vodka and by the miracles of science that vodka makes a tender flaky crust that I at least, can't seem to screw up. And I promise it doesn't taste at all like alcohol once baked.
My second obstacle was an apple peeler. I have always peeled apples by hand with a paring knife. Not only was it overly time consuming, but it wasted a lot of apple by the time I was done and the apple pieces I ended up with were anything but uniform. It worked okay in the past for a quick crisp or muffins, but I wanted a real apple peeler, corer, slicer. And no one would sell me one. Not in person at least and I didn't have time to wait for one to be shipped, I wanted my mini pies now, gosh darn it. Luckily my mother-in-law had one that I could borrow until the one I ordered from Amazon shipped.
So now I was ready to go, and go I did. The pies were easy enough to make, and looked and smelled wondeful. And they tasted… disappointing. They weren't bad, don't get me wrong, I ate them all, but I knew they could be so much better. The crust was fabulous, light and tender and flaky, but the filling left much to be desired. It was dull and didn't pack enough apple flavor. The pecans in the filling took up too much room where apples should have been and the crumble topping was mostly soggy oatmeal. But I saw (tasted?) the potential for something great. It just needed a little tweaking.
First, I cut the apples into smaller pieces so more would fit in the pie shells. I didn't cook the apples with the sugar and spices, instead I just tossed them with a bit of lemon juice to really brighten the apple flavor. I toasted the pecans first and moved them into the topping instead of the filling. The result was fabulous. Seriously I would eat these every day, and I have. They make a great dessert, or breakfast, or a "I came into the kitchen to get something else but oh look there's pie!" snack. My sister-in-law who doesn't like apple pie even went back for seconds. Seriously, they are that good. My crummy photography doesn't do them justice.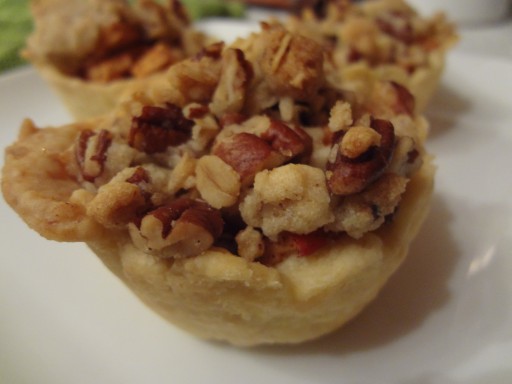 So the first step is to prepare the pie dough. I have posted the recipe separately here. The recipe makes enough dough for approximately 20 mini pies, so if you don't want that many, or don't have two muffin tins, you may want to halve the recipe. Also keep in mind that the dough needs to chill for at least 45 minutes before you can roll it, but it can be made up to 2 days in advance.
Okay, once you have your pie dough chilled and ready to go, we are ready to start the pies. Start by preheating your oven to 425. Then roll out the chilled dough so it is 1/8 inch thick. The dough is sticky so liberally flour your worktop and rolling pin. You don't need to worry about rolling out a nice circle, since we are going to be cutting the dough anyway.
Once it is rolled out, cut circles out of the pie dough big enough to fill a muffin tin cup. I used a cupcake liner as a guide and cut circles slightly larger. It doesn't matter if they aren't perfectly round.
Then place the dough circles in the cup of the muffin tin. Be careful not to stretch the dough to fit the cup, bunch it up to fit then smooth it out instead. There should be a little dough hanging over the edge.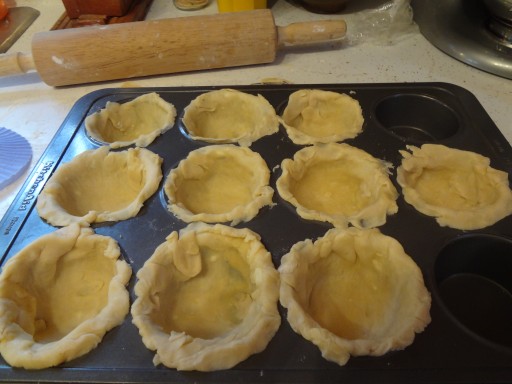 As you can see from the photo, my pies are far from perfect, they turned out lovely anyway. I actually took the bits of dough left over from between the circles, balled them up and rolled them out again to get two more crusts. I was afraid those pies might be tough, but the foolproof pie dough really works.
Now bake these mini pie crusts at 425 for 12 minutes. They shouldn't be raw, but also not brown at all. Remove the crusts from the oven and reduce the heat to 350.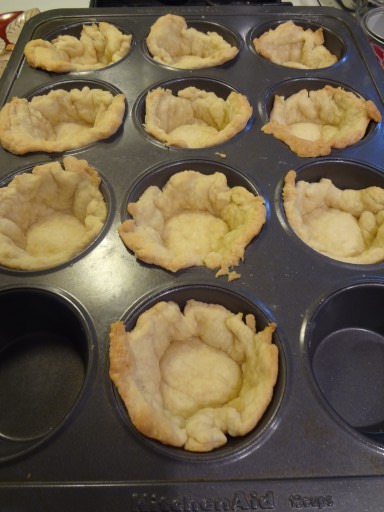 While the crusts are pre-baking, you can get started preparing the apples. I used 6 harlason apples for my 20 pies. If you have an apple peeler, corer, slicer, I highly recommend using it. It makes quick work of preparing the apples.
I completely ignored the little bits of peel left on the apples, and just made sure there wasn't any core left. I then sliced the apple slices into small pieces, about the size of pineapple tidbits, actually. Place the apple bits in a large bowl.
To the bowl of apples, add the lemon juice, brown sugar and spices. Then toss by hand to coat the apples evenly. Set aside while you work on the topping.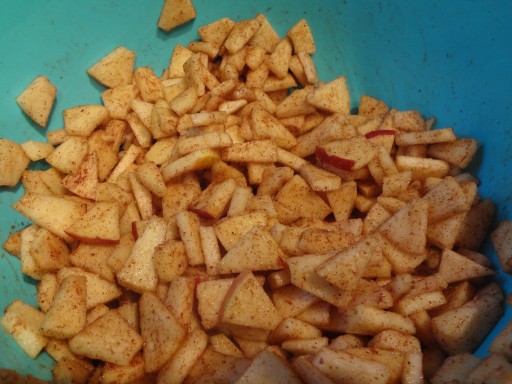 To make the topping, first toast the pecans. Since the oven is on anyway, the easiest way to toast the nuts is to spread them on a cookie sheet. Stick them in the oven for 2-5 minutes or until they start to smell delicious. Then let them cool for a minute or two before adding them to the rest of the topping.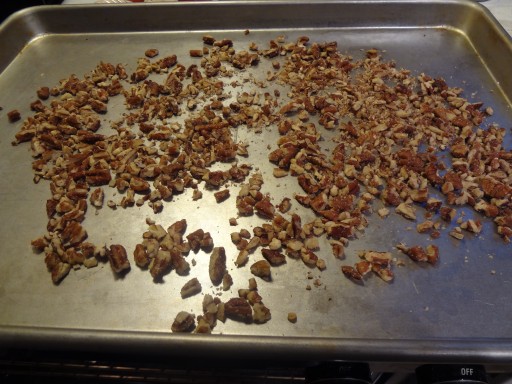 For the crumble part of the topping, combine the sugars, flour, and butter in a small bowl. Either use a pastry cutter or your hands to blend the butter into the dry ingredients until it is starts to resemble crumble topping. Then add the toasted pecans and oats and combine until evenly distributed.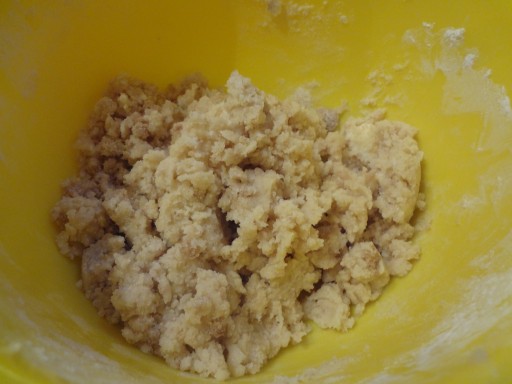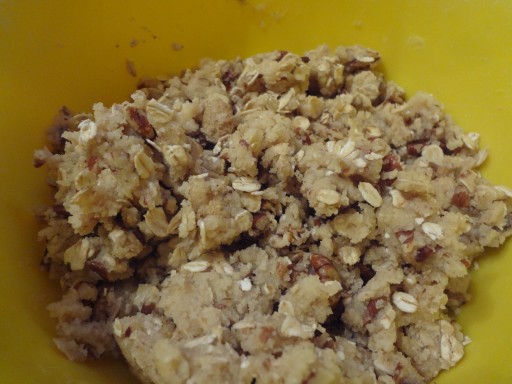 Now, fill the pre-baked pastry crusts with the apple mixture, make sure they are really full. Then crumble the crumble topping over the top.
Bake at 350 for 30 minutes or until the crust and topping are golden brown. Let cool in the pan until they are cool enough to touch, then gently lift the pies from the pan. I think the pies are best after they have cooled completely.
Enjoy!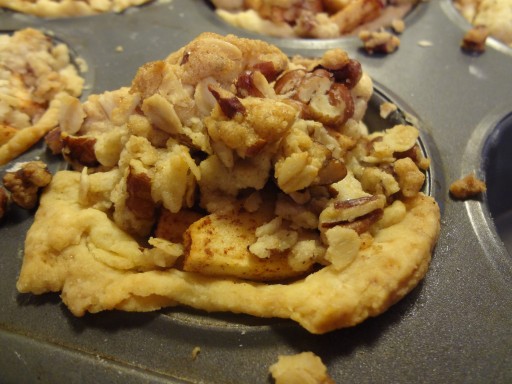 Mini Apple Pies
2013-11-16 16:06:17
Mini apple pies with crumble topping, baked in a muffin tin
For the crust
1 Foolproof Pie Dough recipe, prepared and ready to roll out
For the Filling
6 apples, peeled, cored, and sliced
2 Tbsp lemon juice
1/4 cup brown sugar
2 tsp ground cinnamon
1 tsp ground nut meg
1/2 tsp ground ginger
pinch of ground cloves (optional)
For the Topping
1/2 cup sugar
1/2 cup brown sugar
3/4 cup flour
1/2 cup butter, softened
1 cup chopped pecans, toasted
1/2 cup old fashioned oats
Instructions
Preheat oven to 425 degrees.
For the Crust
Roll out dough to ⅛" thick on floured surface. Using a paper cupcake liner as a template, cut out circles a little larger than liners. Line muffin tin with dough circles. Let the extra dough hang over the edge of tin.
Bake mini pastry shells in oven for 12 minutes or until the shell is no longer raw but still pale. Remove from oven and reduce heat to 350 degrees.
For the Filling
Slice apples into small pieces. In a medium bowl, combine apples, lemon juice, brown sugra, cinnamon, ginger, nutmeg and cloves. Toss with hands until apples are evenly coated. Set aside.
For the Topping
In a small bowl, combine butter, sugar and brown sugar with a pastry blender or by hand until it resembles crumble topping. Add oats and toasted pecans, combine by hand until nuts and oats are evenly distributed.
Assemble
Divide apple mixture evenly among pre-baked crusts. Top each mini-pie with crumble topping. Bake at 350 degrees for 30 minutes or until golden brown.
Notes
Makes about 20 mini pies.
Adapted from She Wears Many Hats
Crafty Cori Strikes Again http://craftycori.com/