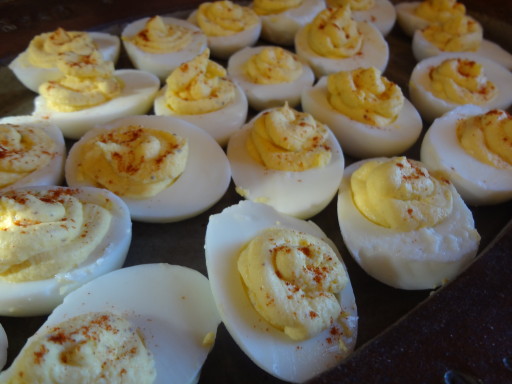 A family gathering is just not complete without a tray of deviled eggs. At least not in my family, because my mom always makes them. She even collects deviled egg plates and proudly displays them on the dinning room walls. I may not have that level of dedication to deviled eggs. I don't even own a special plate (yet, I ordered on from amazon, it is on its way), but I do love them.
My mom's tried and true recipe calls for Miracle Whip, yellow mustard, sugar and salt. There are no measurements, she just eyeballs it, tastes, and adjusts accordingly. They really are fabulous, but I do not have her same skills. I'm sure it comes years of experience, but I need a recipe. I also do not keep Miracle Whip on hand, so I needed a recipe that would still have the tang I was used to, but used real mayonnaise. I turned to Cooks Illustrated, who rarely let me down, and these eggs did not disappoint.
Of course the first step of deviled eggs is to hard boil the eggs. I previously posted my no fail method here. Peeling the eggs is really the hardest part of the whole recipe. I tend to butcher mine. Just remember they taste just as good even if the eggs aren't perfectly smooth.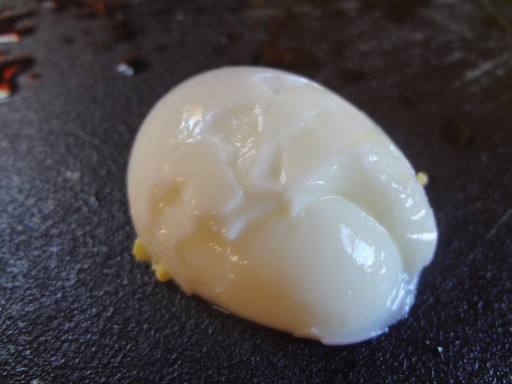 Once you have the eggs peeled, slice them in half length-wise. Empty the yolks into a fine mesh strainer over a bowl and set the whites on a plate.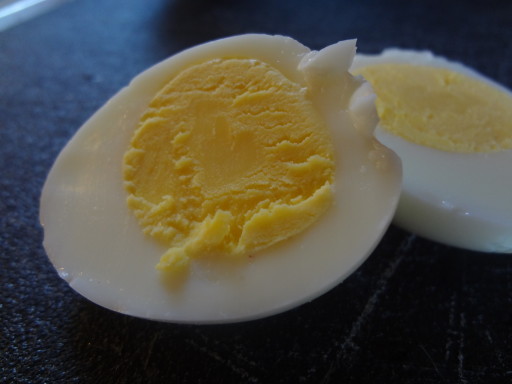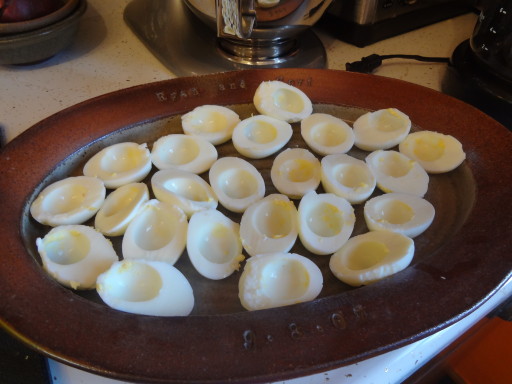 Next, use a rubber spatula to push the yolks through the strainer. If you don't have a mesh strainer, you can skip this part and just mash the yolks up really well with a fork. I did this several times before I bought a strainer and the eggs were just as delicious. Pushing the eggs through the strainer just makes the finished yolk a bit smother and creamier.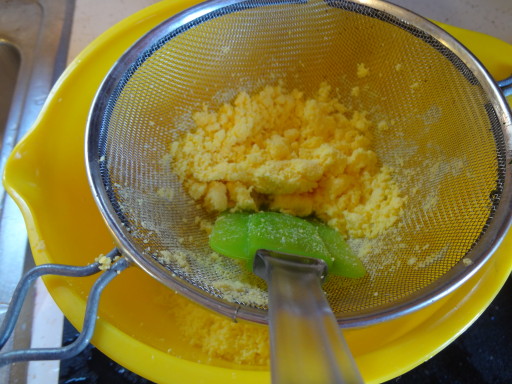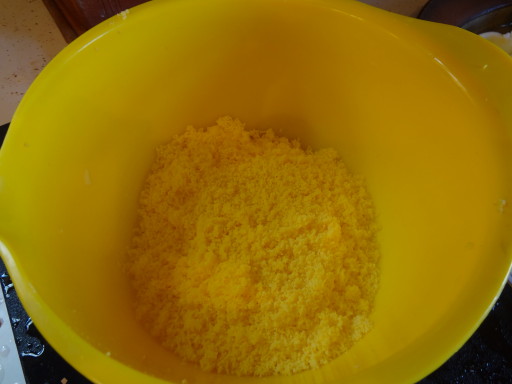 Then add the rest of the ingredients and mix together. Feel free to taste test and add a bit of salt or more mustard if you think it needs it. I added just a touch more vinegar.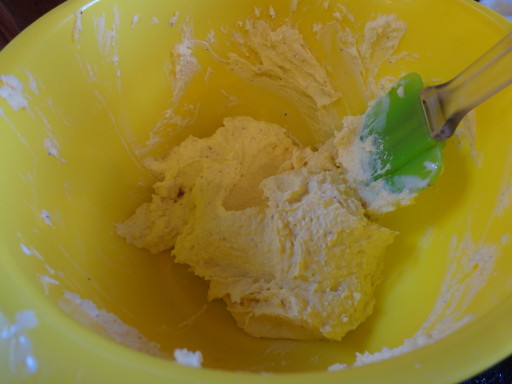 Now all that remains is filling the whites up with the yummy, creamy yolk filling. If you have a pastry bag, you can be fancy here, otherwise you can use a spoon or fork to fill the eggs. I improvised and used a ziplock bag. Just load up the filling and snip the corner off the bag. Make sure the zipper is closed tight, or you will have egg yolk all over everything.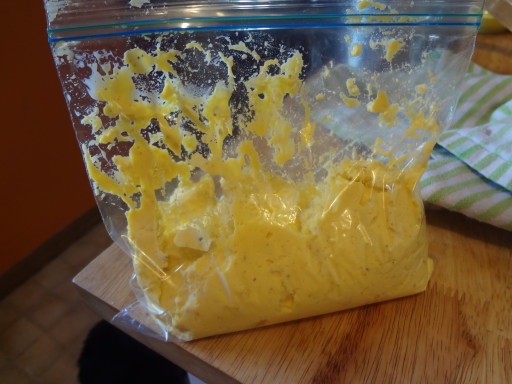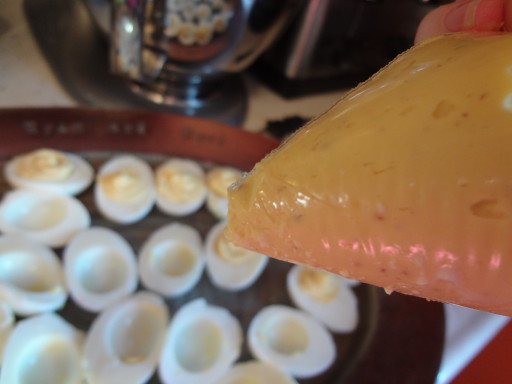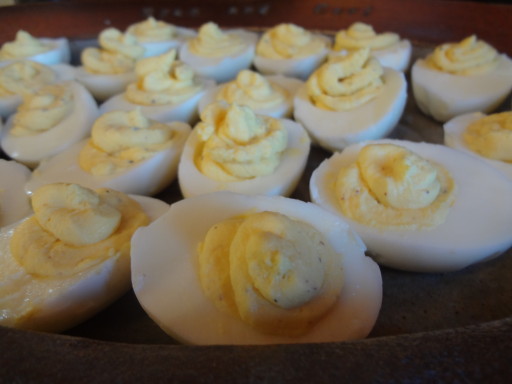 Then I sprinkled a little bit of paprika over the tops of the eggs, just to make them pretty. And that's it. Delicious deviled eggs to share.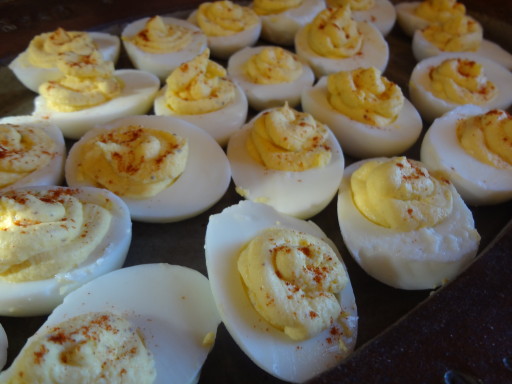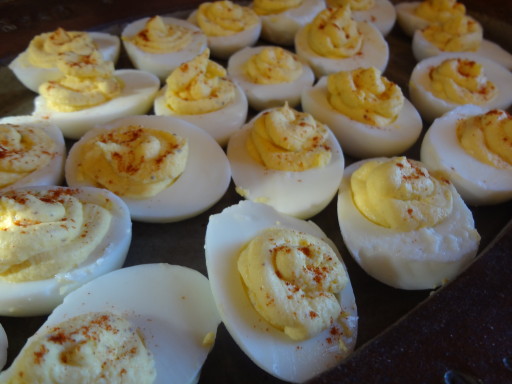 Deviled Eggs
2013-11-11 13:52:15
Ingredients
6 large eggs, hard boiled
2 Tbsp mayonnaise
1 Tbsp sour cream
1/2 tsp white vinegar
1/2 tsp spicy brown mustard
1/4 tsp sugar
1/8 tsp salt
1/8 tsp pepper
Instructions
Peel eggs and halve lengthwise. Transfer yolks to a fine mesh sieve set over a medium bowl. Using spatula, press yolks through sieve into bowl. Stir in remaining ingredients until smooth.
Arrange whites on serving platter. Divide yolk mixture among whites.
Notes
Makes 1 dozen deviled eggs.
Adapted from Cooks Country
Adapted from Cooks Country
Crafty Cori Strikes Again http://craftycori.com/