Crochet Thanksgiving Turkey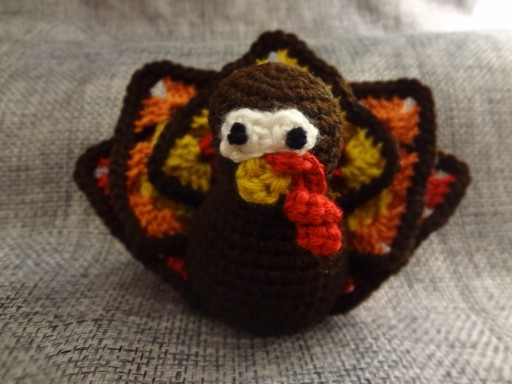 Wouldn't this little guy be an adorable addition to your Thanksgiving table? I really can't get over how cute he is.
I was just talking with Ryan about how I needed to get started on crocheting Christmas gifts, designing Christmas cards, finding recipes for Christmas candy and cookies, and how he needed to go outside and hang the Christmas lights… Christmas, Christmas, Christmas. When I saw this pattern while perusing Pinterest I was instantly reminded that I was guilty of something I hate, glossing over Thanksgiving. I hate that stores have their Christmas displays up the day after Halloween, or even earlier. I hate that radio stations are already playing Christmas songs, and I hate that stores open for Black Friday at 6pm Thanksgiving night. I might sound a little too much like Charlie Brown, but I hate the over commercialization of Christmas and that the need to squeeze more shopping days into the Christmas season is completely overshadowing Thanksgiving. It might not be as marketable, but the message of Thanksgiving is important. So I decided to hold off on all my Christmas tasks and changed my plan for the weekend to "Crochet the Cute Turkey".
Okay, so crocheting a turkey isn't going to stop the rest of the world from moving forward with their Christmas plans, It didn't even really stop me, Ryan still hung the lights outside, but they won't get turned on until Thanksgiving night. But it gave me a chance slow down and reflect on the season, which made me feel better. So why not crochet a turkey of your own? Did I mention he's cute?
The pattern is free from Petals to Picots. The turkey body is standard amigurumi, worked in unjoined rounds. The genius is the tail "feathers" made from granny squares. Such a simple solution to how to make the tail, and it allows for so much customization in the colors you choose. I really love it. I made the pattern as written except for the colors on the tail. I used red instead of tan, and I switched the order of colors on the center tail square. He took just a few hours to complete and the pattern is really easy to follow. I really couldn't be happier with how it turned out and I thank Kara at Petals to Picots, not only for creating such a cute pattern, but for offering it up for free.