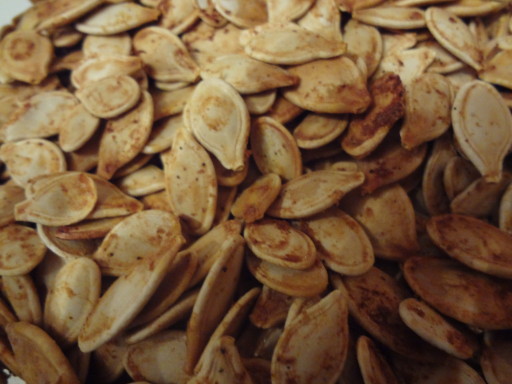 Happy Halloween! In the spirit of the holiday I thought I would share with you my tried and true recipe for roasted pumpkin seeds. My parents have been using this same recipe since I was a little girl, my mom still has the original recipe that she clipped from the local paper.
What makes this the best recipe of all pumpkin seed recipes I've ever had is the fact that you do not wash the seeds. You separate them from the pulp, but you leave them all slimy with pumpkin goo. The pumpkin goo gets baked onto the seeds and gives them a delicious yet subtle pumpkin flavor. Seriously, they are fabulous. And super easy, once you get them out of the pumpkin. The original recipe only calls for seeds, oil and table salt, but I sub seasoned salt for some of the salt to give them a bit more flavor.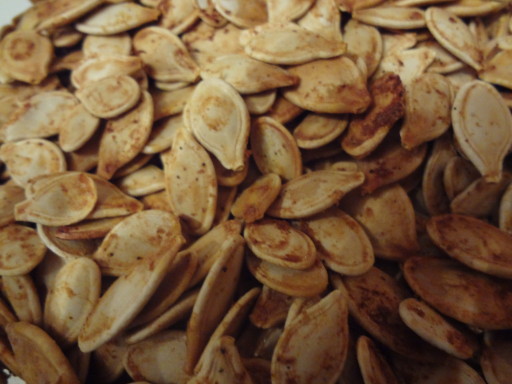 Roasted Pumpkin Seeds
2013-10-31 15:15:31
Ingredients
2 cups pumpkin seeds
2 Tbsp oil
1 - 2 tsp salt
Instructions
Separate seeds from pulp, but do not wash seeds.
Place seeds in a bowl. Add oil and salt. Toss together.
Spread the seed mixture on a cookie sheet and bake at 250 degrees for 75 minutes or until the seeds are dry.
Notes
You can substitute seasoned salt for a portion of the salt for even tastier seeds. For 2 cups seeds, I prefer 1 tsp seasoned salt and 1/2 tsp table salt.
Crafty Cori Strikes Again http://craftycori.com/