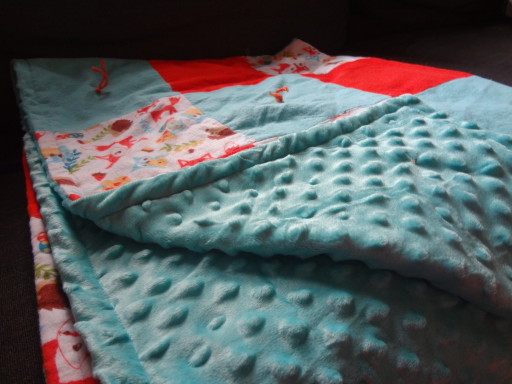 Liam turns one this week! I can't believe he is a year old already, it just doesn't seem possible. Anyway, for his birthday I decided to make him a new blanket. He has lots of small blankets, perfect for throwing over an infant car seat, and I've made him a couple of crochet granny square blankets, but I thought he needed a larger, warmer, cuddlier blanket that he could continue to use as he grows up. This one is 42 x 54, so it will fit his toddler bed when he eventually graduates from the crib. The patchwork side is all soft flannel and the back is minky, so the blanket is super warm and cuddly. I used the same fox fabric I used for the crinkle taggy I made earlier. I just love it, it is cute and totally matches the "woodland creatures" theme of Liam's room.
Now, this blanket is not difficult to make, but it did present some challenges. First, I had never sewn a blanket before and had to figure out what the heck I was doing. I don't promise this is the best way to go about this, but what I came up with seems to have worked without too much trouble. Second, I can't cut or sew a straight line to save my life and it became very evident as I tried to piece together all these squares. The lesson is, there is plenty of room for fudging. I am actually pleasantly surprised at how well all the squares line up since none of them were actually square to start with. It's not perfect by any means, but I was really worried for awhile and it all turned out okay. And thirdly, minky is a strange beast. It stretches and slides around as you work with it. I pinned the heck out of it and still had to pull a bunch of stitches because it was out of whack. Irritating, but nothing proper sewing skills couldn't have prevented.
To get started, you'll need to gather supplies.
Fabric for front. I needed 3 yards for my 42 x 54 inch blanket, 1 yard of each of 3 colors.
Minky fabric for the back. The Minky I bought was 58″ wide, so I only needed 1.5 yards.
Thread
Scissors
Pins
Measuring device
Disappearing Ink Pen
Yarn
Then I had to do some math. I needed to figure how what size to cut my squares for the patches. I decided on 9 inch squares, because it divided evenly into a yard of fabric, and I wanted big enough squares so you could see enough of the fox pattern. Because I am not good at sewing I wanted a decent seam allowance to give myself plenty of fudge room, so I decided on an inch, which meant the finished size of each patch would be 7 inches. Then since I wanted to blanket to be about 42 x 54, I knew I would need 6 squares by 8 squares. It turned out that I could get 16 squares out of a yard of fabric and I needed 48 squares. I had originally only purchased 2 yards of fabric, in fox and orange, so I knew I needed another yard. I decided to go with blue and drew up my pattern so I could follow it as I sewed the patches.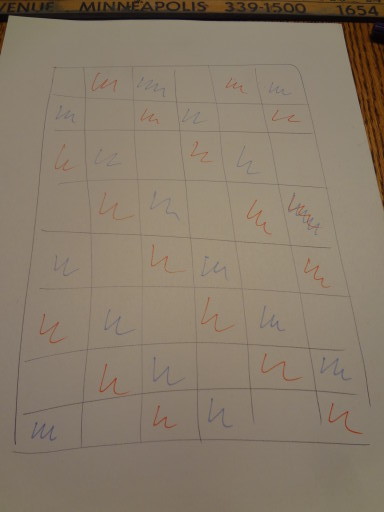 So the next step is to cut all the squares. I did my best to measure accurately and tried to start from a straight edge of the fabric, but I promise that none of my 48 squares were actually square. That's okay, just make sure they are close.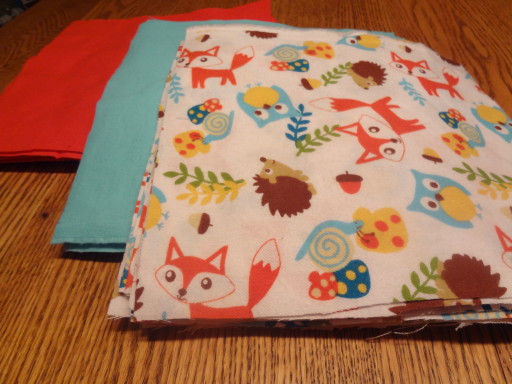 Now, following your sketch, it is time to sew the patches together. I worked across the short rows, making 8 strips, then sewed the 8 strips together, if that makes sense. My first two squares were fox and orange. Line them up, right sides facing and sew 1 side with a 1 inch seam allowance.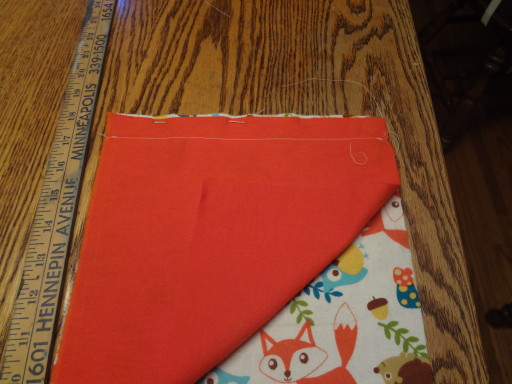 Then continue with the 3rd square, mine was blue. Open the two you have sewn already, line up the 3rd square with the 2nd, and sew that seam so you have 3 squares in a row. Continue in the same manner until you have a whole row of squares.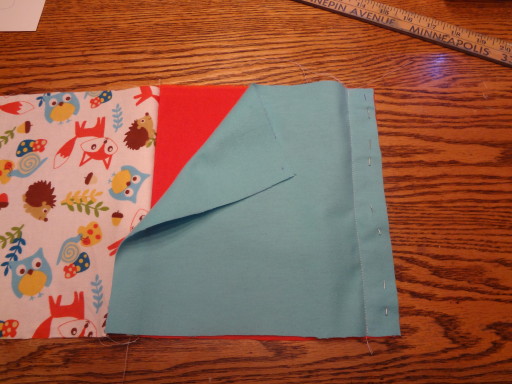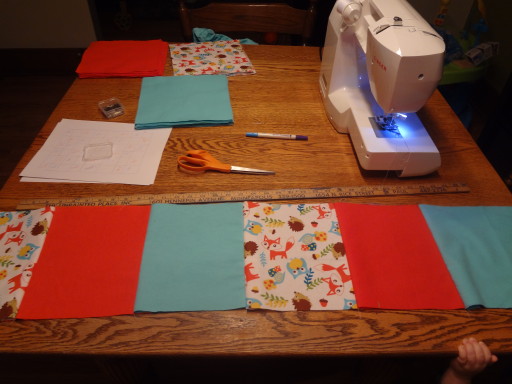 Then repeat this process for each row on your outline until you have all the rows completed. Once you have all your rows, they need to be pressed. Press them so the seam is open, like in the photo below. Go ahead and press all your rows
Now we have to start sewing the row strips together. Once again use your handy dandy outline to make sure you are following the right pattern. Line up two strips, right sides together, doing your best to get the patches to meet up at even corners. If your squares are not quite square like mine, and your rows not quite straight, you'll appreciate the wiggle room the extra inch gives you when trying to get things to line up. Sew leaving a 1 inch seam allowance.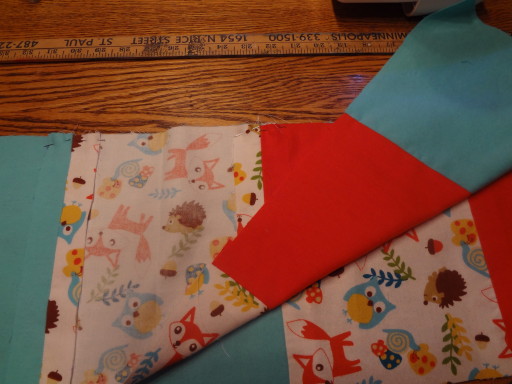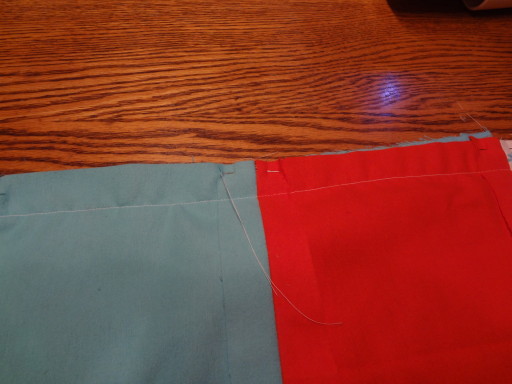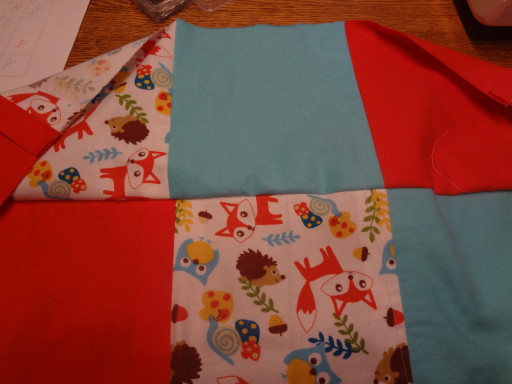 Continue adding each row the same way until the front of the blanket is complete assembled.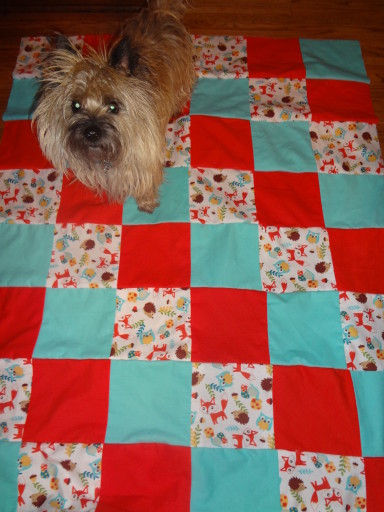 At this point I realized that the front of my blanket is 100% cotton flannel and the back is going to be polyester minky. Cotton shrinks and polyester doesn't, and I didn't want my blanket to be all wonky after it got washed, so I washed the front in cold water so the colors wouldn't bleed and threw it in the dryer. Hopefully it did all the shrinking it will do so I now have the true size of the front to match up with the back.
Once it come out of the wash, it will be a wrinkled up mess. Time to iron again. I ironed all the seams open.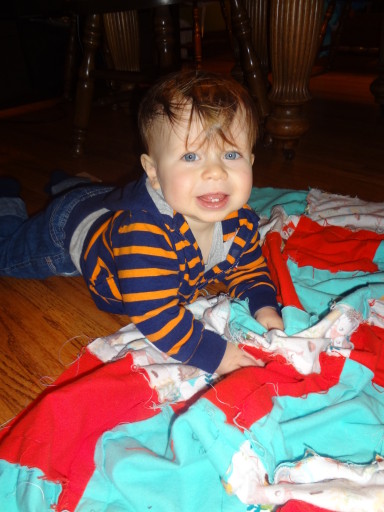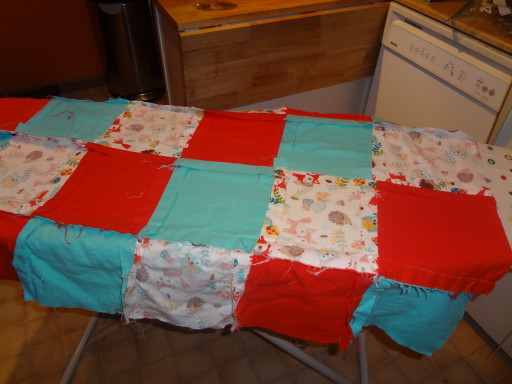 Now it is time to attach the back and tackle the minky. First I laid the minky right side up on the floor, because my table isn't big enough. I waited until Liam was asleep and the dog was outside so I could do this uninterrupted.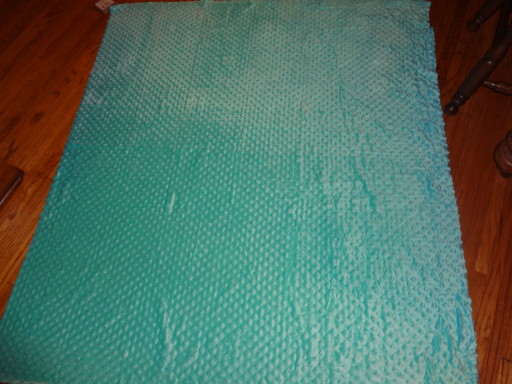 Then I laid the patchwork over the minky, right side down so the right sides of the fabric are together. I carefully lined up the two sheets along the top and left so the extra minky was all on the right and bottom. Just means fewer cuts to trim the minky. If your minky isn't straight, you might want to center it and trim off all sides.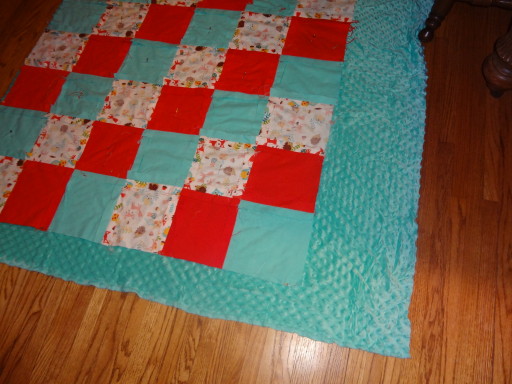 Then pin the two pieces together with safety pins. Use way more than you think is necessary. You do not want the minky sliding around or stretching as you sew it. I bought a new package of 50 pins and used the majority of them, I probably should have used even more.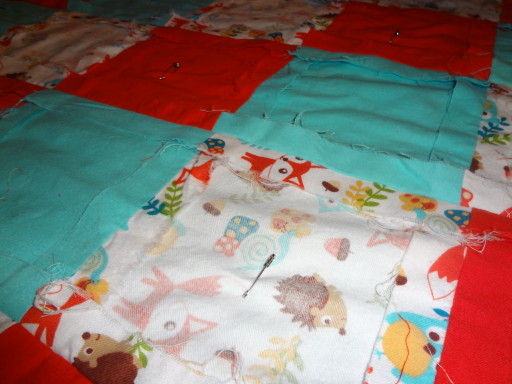 Now that is all pinned up, trim off the extra minky. I neglected to take a picture of this step, but it should be pretty straight forward.
Once it is trimmed, it is ready to sew. Sew around the outside of the blanket with a 1 inch seam allowance. When you get to a corner, leave the needle down, lift the foot and rotate your work 90 degrees. Put the foot back down and continue sewing the next side. Leave a gap between your stop and start point so you can turn the piece right side out. I started sewing on the 3rd square of one side, went all the way around and stopped after the first square on the starting side, leaving a one square gap at the 2nd square.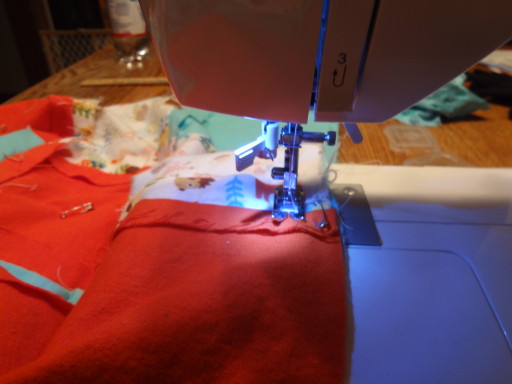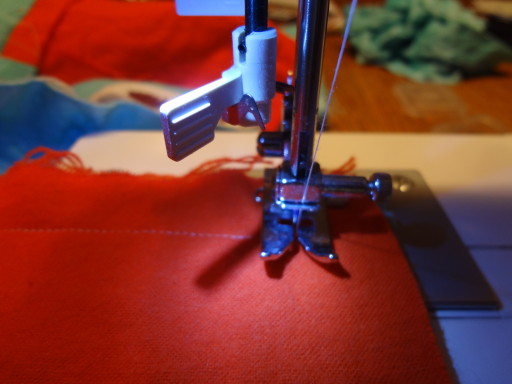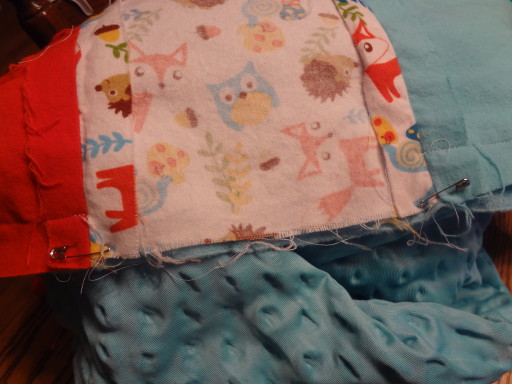 Next step is to remove all those dang pins and turn it right side out. Before you turn it, clip the corners off like shown below, this will prevent the extra fabric from bunching up in the corners.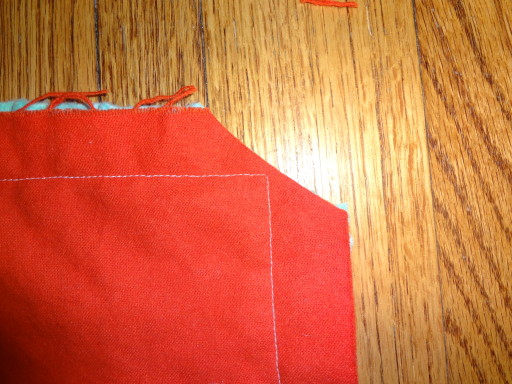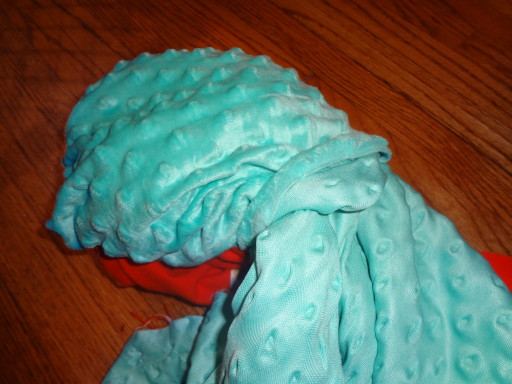 Once it is turned the right way, you'll want to make sure you pop the corners out so they are nice and square. You can use something pokey to help if they are being stubborn.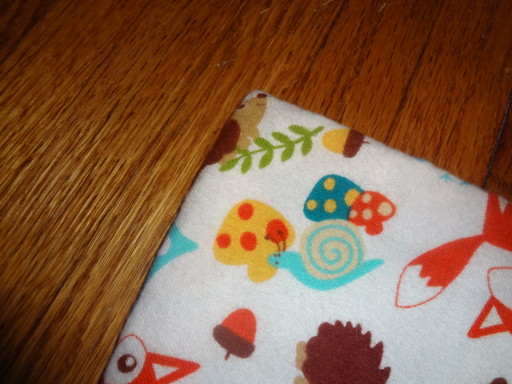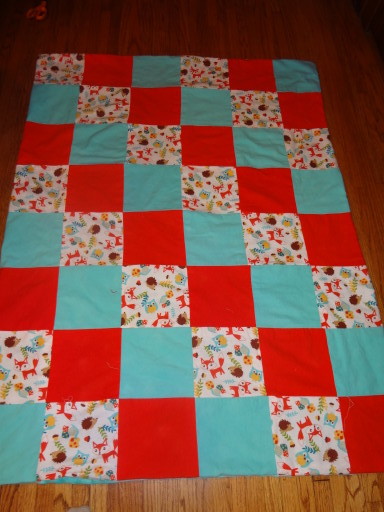 The next step is to top stitch around the entire blanket to give it a nice finished look. Before that, you will want to pin the turning gap closed. The top stitch will sew it shut and unless you really want to, there is no need to hand sew the gap.
Now we are ready to top stitch around. This would be a perfect opportunity to use contrasting thread or a decorative stitch. I didn't bother to purchase contrasting thread and although my sewing machine has 60 different stitches, I've only ever used 2, so I used white thread and a straight stitch.
You can decide on how far from the edge you want the top stitch to be depending on the size of your blanket and the look you are going for. Just make sure it is less than your seam allowance, so that the turning gap gets sewn shut. I chose to go with 5/8 inch, because it looked nice, and there is a big line on my machine to use as a guide. I like easy. Handle the corners the same way we did before, with the needle down, lift the foot and rotate 90 degrees.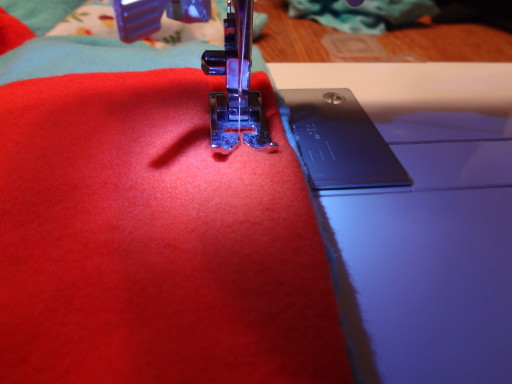 As I stitched, the minky kept wanting to shift past the edge of the front piece. I just went slow and was careful to keep the pieces lined up, but in the future, I might pin it again to stop the minky from sliding around.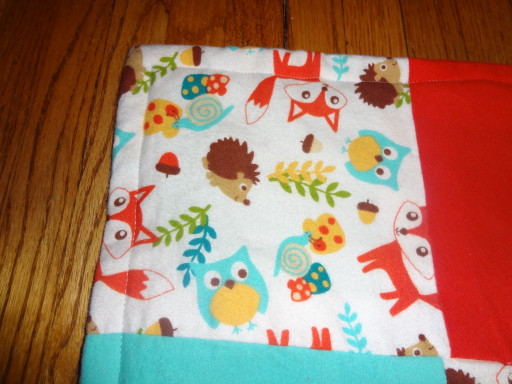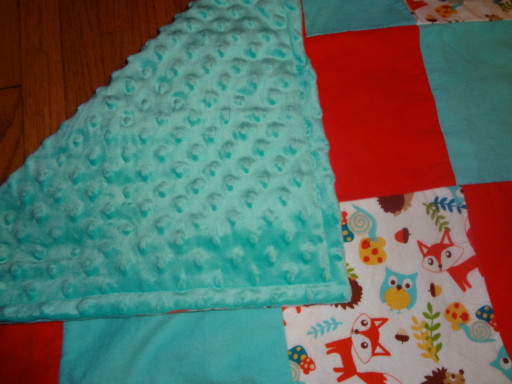 At this point you might be done. If you are, congratulations on your adorable new blanket! I, however, was not done. Since my blanket is on the bigger side, I was concerned the front and back might not stay together as you used it and one side or the other might bunch up funny, so I decided to add some yarn ties to hold the front and back together. If your blanket is smaller, this might not be a concern.
I decided to go with orange yarn in the center of each blue square. I liked the contrasting colors, already had orange yarn, and thought 1/3 of the patches would be enough. You could do more or less, or do the corners instead of the center of the squares, whatever looks right for your blanket.
As I did this, I discovered that minky is tough stuff. I couldn't pull my threaded yarn needle through it easily and with all my pulling, I was making a really large hole on the flannel side. My solution was to use two needles. I poked through an empty needle first to make a whole, then put the yarn needle through. I tied my yarn in a double knot and trimmed it to about an inch.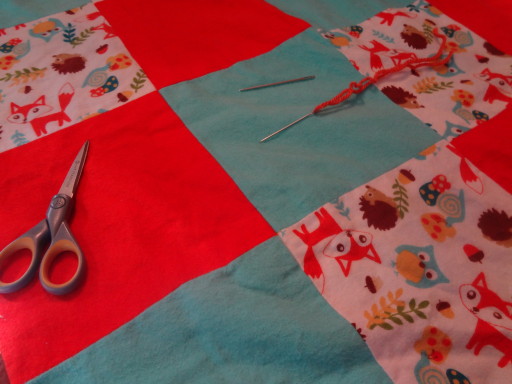 Then I washed the blanket again to get any creases out of the minky and to fray the yarn ties a little bit. I just think they look silly brand new with perfectly clean cut edges, but maybe that is because all my patchwork quilts are old and have been washed hundreds of times.
I think the blanket came out beautifully. It is soft and warm and cuddly just like I wanted it to be. Like I said, it isn't perfect, some of the patches don't quite line up in the corners and some of the seams aren't exactly straight, but I think is is damned good for a first try. I am anxious to give it to Liam on Friday for his birthday. I think he's going to love it.