Mini Apple Cider Doughnut Muffins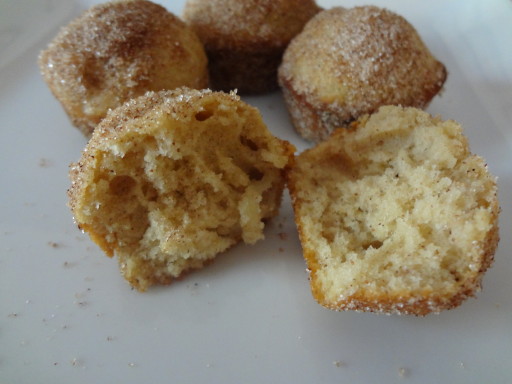 Are they mini Apple-Cider-Doughnut muffins or apple cider Mini-Doughnut muffins or apple cider doughnut Mini-Muffins? It doesn't matter, they are delicious. This one is a Pinterest find from ambrosia. I knew as soon as I saw them that they would be my next new recipe to try. Mini muffins that taste like apple flavored mini doughnuts. What's not to love?
Liam was running a slight fever this morning, so I had an unexpected day off work. Ryan's been bugging me to make some chocolate chip cookies, so that was what I had planned to do while Liam napped today. But I discovered that I was out of parchment paper and low on butter, so the cookie recipe would have to wait. Plan B, try the new muffin recipe from Pinterest. (In case you are wondering, I do bake things other than muffins… and I'll prove it, eventually…)
Ambrosia has a wonderful step-by-step recipe with much better photographs than I am capable of taking, so I didn't bother. I followed the recipe exactly, with one exception. I didn't have any whole cloves, so instead I added 1/8 teaspoon ground cloves to the batter with the other spices. They are delightfully easy to make. I didn't bother with gloves when I tossed the buttered muffins in the cinnamon sugar, but I did end up with very sugary fingers.
Anything covered in cinnamon sugar is bound to taste good and these are no exception. They really do taste a lot like mini doughnuts, with a subtle apple flavor and warm fall spices. I wish they were even more appley, so next time I make them I might add more shredded apple. I think they could handle the extra moisture without negatively affecting the texture of the muffins. And I might kick up the spices a bit, too. Or make a variation with pumpkin instead of apple. Mmmm… pumpkin muffins. I love fall baking.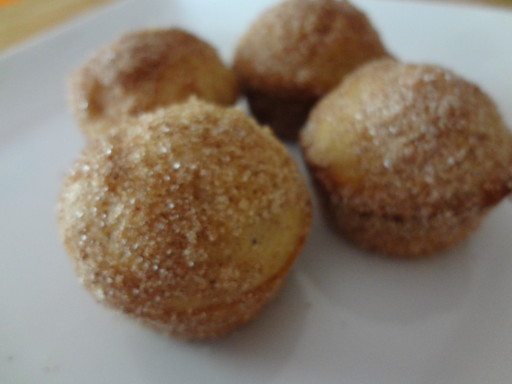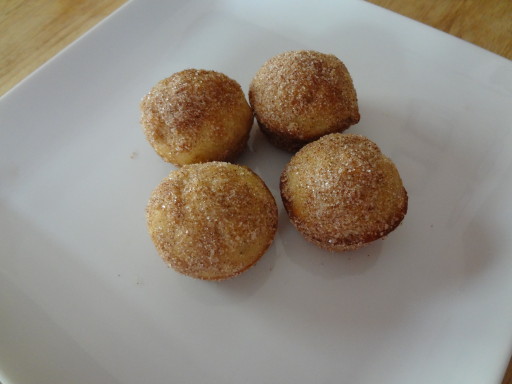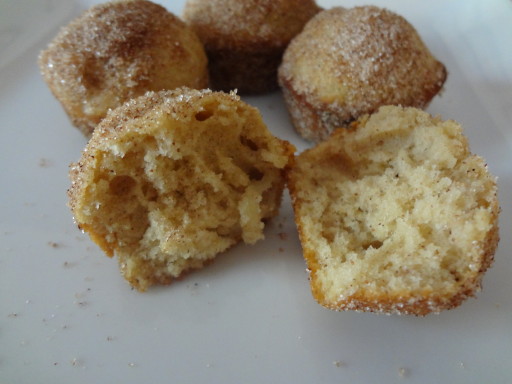 Mini Apple Cider Doughnut Muffins
2013-10-11 20:09:59
Mini muffins that taste like apple flavored mini doughnuts
For the Muffins
1 cup apple cider
2 2/3 cups all purpose flour
1 1/2 teaspoons baking powder
1/4 teaspoon baking soda
1 teaspoon cinnamon
1/4 teaspoon ground nutmeg
1/8 teaspoon ground cloves
3/4 teaspoon salt
1/4 cup (1/2 stick) unsalted butter, softened
1/4 cup vegetable oil
1/2 cup granulated sugar
1/3 cup packed brown sugar
2 large eggs
1 teaspoon vanilla extract
3/4 cup milk
2 small apples, peeled and grated
For the Cinnamon Sugar Topping
1/4 cup (1/2 stick) unsalted butter, melted
3/4 cup granulated sugar
2 1/2 teaspoons cinnamon
Instructions
Preheat the oven to 425 degrees F, and position a rack in the middle of the oven. Lightly grease mini muffin tins with non-stick spray.
Cook the cider in a small saucepan over medium heat until it reduces to 1/4 cup, about 20 minutes. Allow the cider to cool.
In a bowl, whisk together the flour, baking powder, baking soda, cinnamon, nutmeg, cloves, and salt, and set aside.
In the bowl of a standard electric mixer fitted with the paddle attachment, cream together the butter, vegetable oil, granulated sugar, and brown sugar until smooth and fluffy. Add the eggs, one at a time, making sure to mix completely before adding the next egg. Beat in the vanilla extract.
Whisk together the reduced cider and milk. Stir 1/3 of the flour mixture into the butter mixture then add half of the milk mixture and stir. Stir in half the remaining flour mixture, then the remaining milk, then the rest of the flour. Make sure all the ingredients are well incorporated, but take care not to overmix. Stir in the grated apples.
Divide the finished batter evenly among the greased muffin cups. Bake the mini muffins in the preheated oven for about ten minutes, until they're a pale golden brown and nicely domed. Set the mini muffin tins on a wire rack and allow them to cool on a wire rack for a few minutes.
While the muffins are cooling, stir together the granulated sugar and cinnamon to make the cinnamon sugar topping. When the muffins are cool enough to handle, use a pastry brush to brush them all over with melted butter. Dip the buttered muffins into a bowl of cinnamon sugar, and toss to coat evenly. Repeat with the remaining muffins.
Notes
Makes about 4 dozen mini muffins.
Adapted from Ambrosia
Crafty Cori Strikes Again http://craftycori.com/