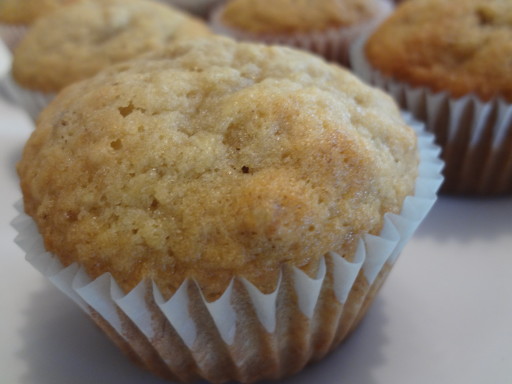 What Sunday morning couldn't be improved with a fresh-out-of-the-oven banana nut muffin? None. A muffin makes every day better, especially a delicious, warm, banana nut muffin. So that is why I started my Sunday by making a batch. Of course I didn't "start" my morning until almost 11, so by the time I had any muffins ready to eat, it was technically Sunday afternoon, but that's not the point. The point is delicious muffins are delicious. Anytime.
I make these muffins from the same recipe my mom used to make banana bread when I was a kid. And sure, you could still use it to make bread if you wanted, but I prefer muffins for their portability. They make the perfect grab-and-go breakfast as I'm trying (and usually failing) to get out the door on time. Plus, they really are delicious and simple to make.
The recipe comes from "The Big River Cookbook", a collection of recipes put together by the ladies at the church where my grandma grew up. My grandma had a copy and my mom got a copy as a wedding gift. Just about all my favorite childhood recipes are found in this book. Of course it was out of print by the time I got married, but since my mom rarely cooks anymore, she let me have her copy. It has seen better days. The cover isn't so much attached, and the pages are stained. But it just means it was well used. And it makes it easier to find the recipe I'm looking for. Which of the several banana bread recipes did Mom always make? Chances are it's the one that is all goobered up.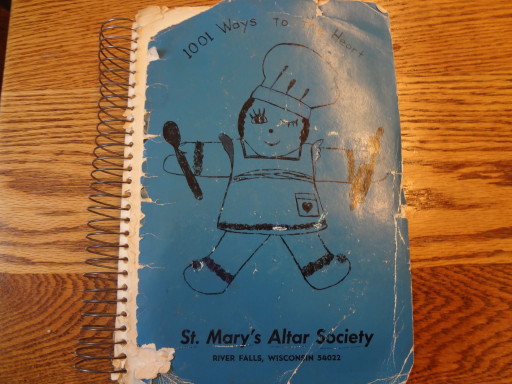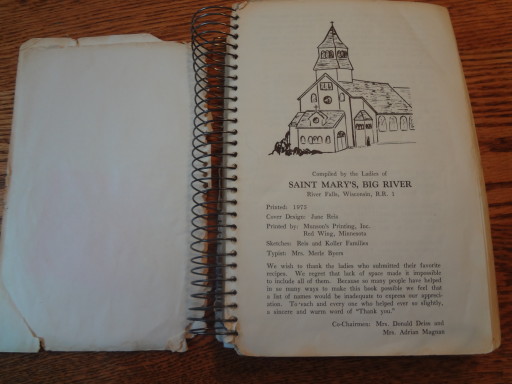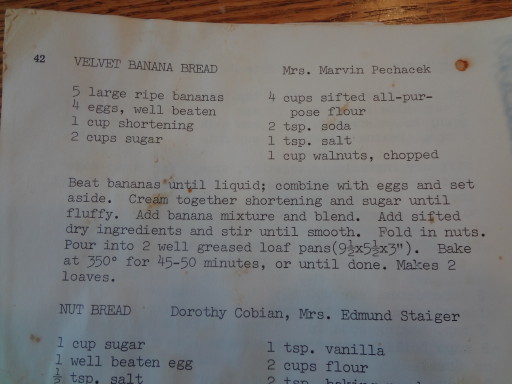 So we start by gathering ingredients. Before anyone comments on my funny looking bananas, it's because they are frozen. We always end up with just a banana or two that end up a bit past their peek. But one banana isn't enough to make anything with, so we'll just throw it in the freezer until we have enough for muffins, or Fat Elvis Bars, another banana favorite. I'll have to post that recipe next time I make them. Oh, and preheat your oven to 350.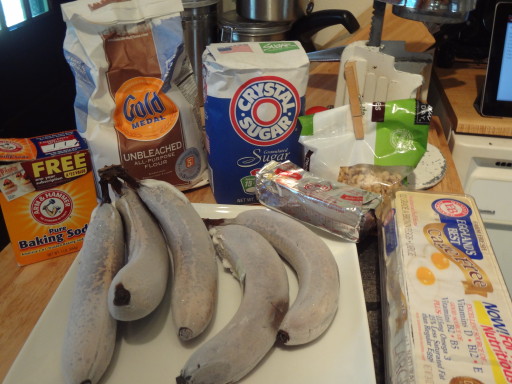 A note about shortening: I generally prefer butter over shortening, but have found that in these old recipes, if it calls for shortening, you will not get as good of results with butter. The cookies end up flat instead of puffy. I haven't tried subbing out the shortening in this recipe, because I don't think it will turn out. Also, whoever at Crisco decided to sell their product in 1 cup sticks was a genius. I'll never buy another tub of Crisco again. I still don't know how to get it back out of my measuring cups once it goes in.
Okay, back to baking. First step is to mash up your bananas. If your bananas are frozen like mine are, thaw them. I usually just leave them on the counter, but this time I was in a hurry so I defrosted them in the microwave. Warning, previously frozen bananas are gross, but on the plus side, they start mostly mashed. I just mash my bananas in a mixing bowl with a pastry cutter.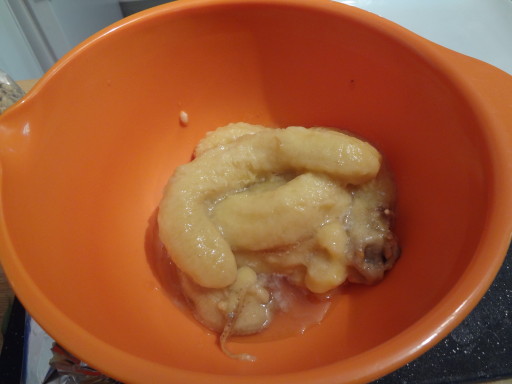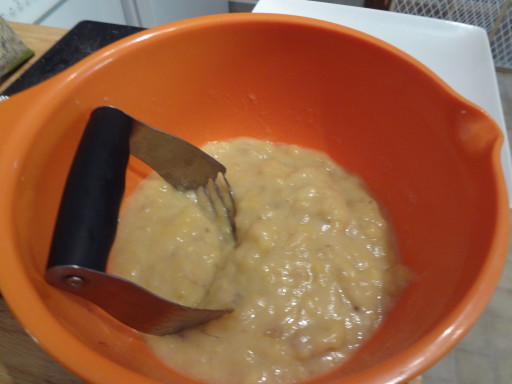 Next I beat the eggs. I could easily have done this with a whisk, but I really like using my mixer. It's still relatively new (I got it for my birthday last year, so it's only a year old) and the novelty hasn't worn off yet. Once the eggs are beaten, add them to the banana goo and set aside.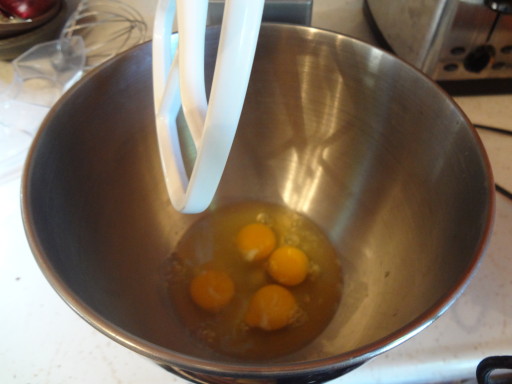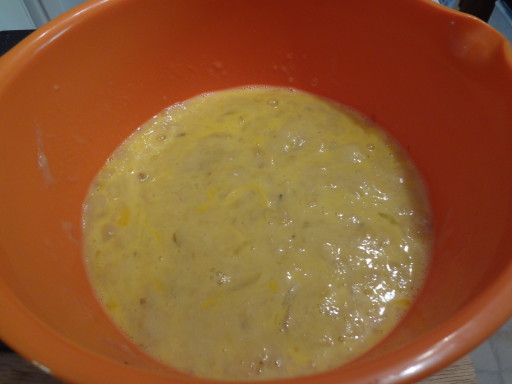 Now cream the shortening and sugar until fluffy. A mixer really does help here.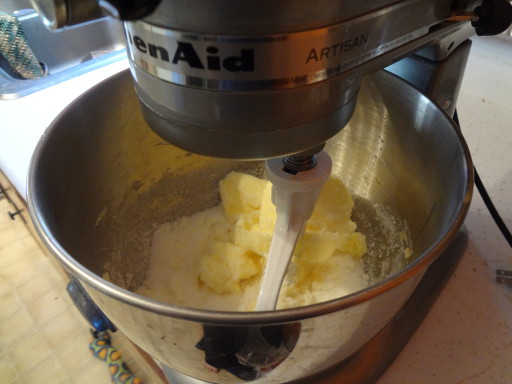 Add the banana/egg mixture and mix until blended. I seem to have neglected to photograph this step, but you know what to do.
Then add the dry ingredients and stir. Turn the mixer on as low as possible at first to avoid covering your kitchen in a poof of flour.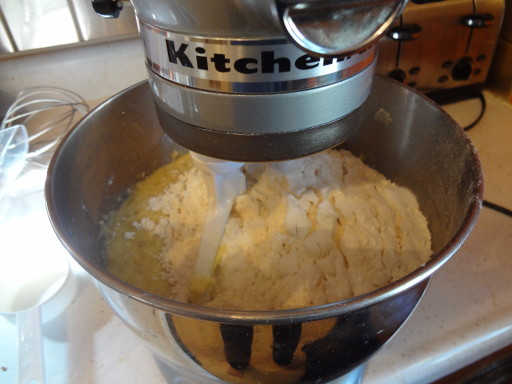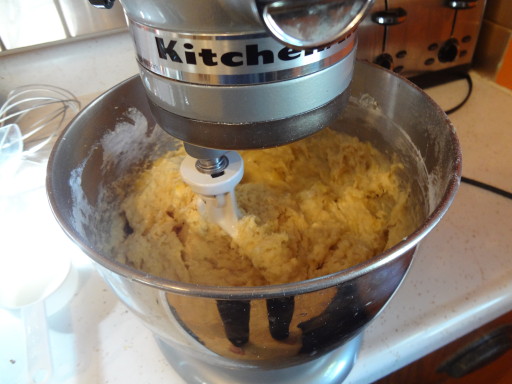 Then add the nuts and fold in by hand. Use this opportunity to mix in any last pockets of flour that were missed.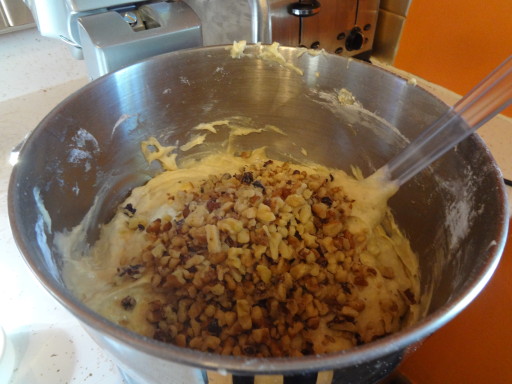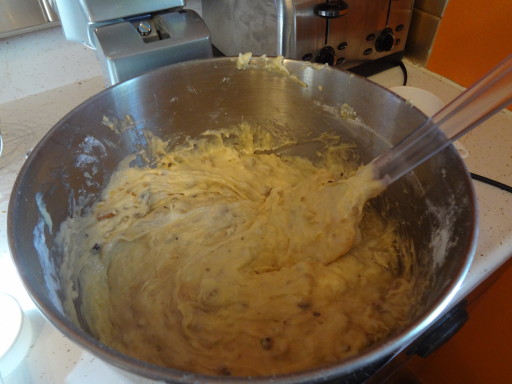 Time to fill your muffin tins. I use liners in mine, but of course you can grease and flour if you prefer. I put two scoops of batter into each cup. This recipe makes 3 dozen muffins, which I agree is a bit ridiculous, but they freeze well, so bonus muffins for later!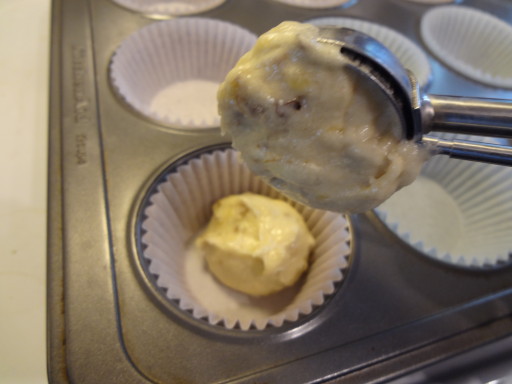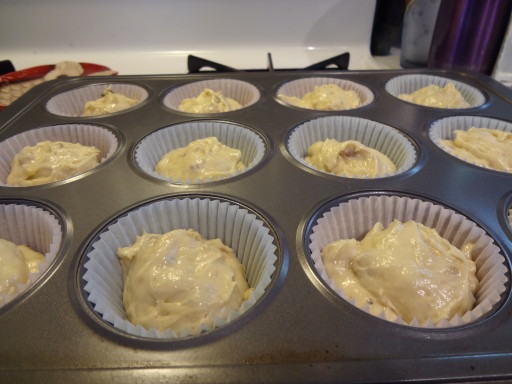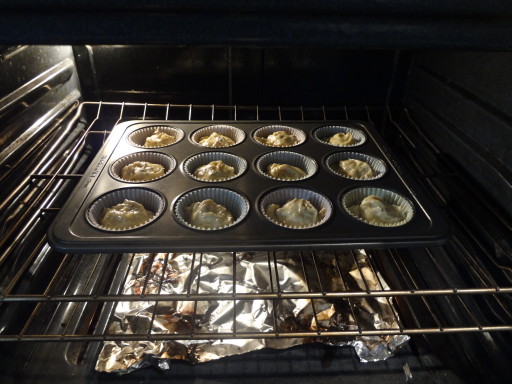 Bake at 350 degrees for about 20 minutes or until the tops of the muffins turn golden. I only cook one pan at a time, because anytime I try to do more than that, I burn muffins. When they are done, remove from oven and let cool enough before eating so that you don't burn your mouth. I think they are perfectly delicious all on their own, but I wouldn't judge you if you wanted a bit of butter.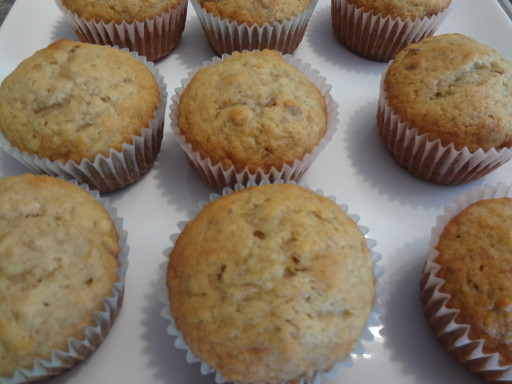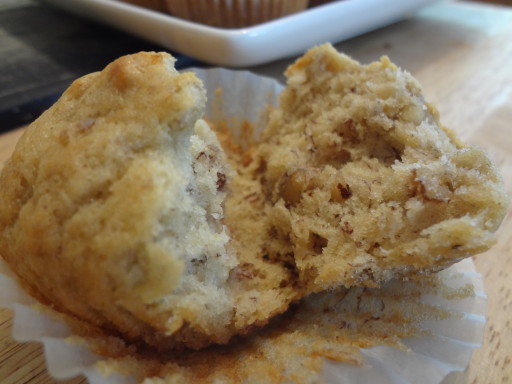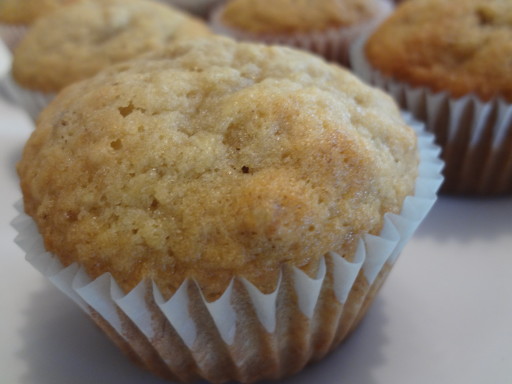 Banana Nut Muffins
2013-09-30 16:25:38
Ingredients
5 large ripe bananas
4 eggs, well beaten
1 cup shortening
2 cups sugar
4 cups flour
2 tsp baking soda
1 tsp salt
1 cup walnuts, chopped
Instructions
Beat bananas until liquid. Combine with eggs and set aside.
Cream together shortening and sugar until fluffy. Add banana mixture and blend.
Add dry ingredients and stir until smooth. Fold in nuts.
Scoop into prepared muffin tins. Bake at 350° for 18-23 minutes, or until tops are golden.
Notes
Makes 36 muffins.
Adapted from Big River Cookbook
Adapted from Big River Cookbook
Crafty Cori Strikes Again http://craftycori.com/