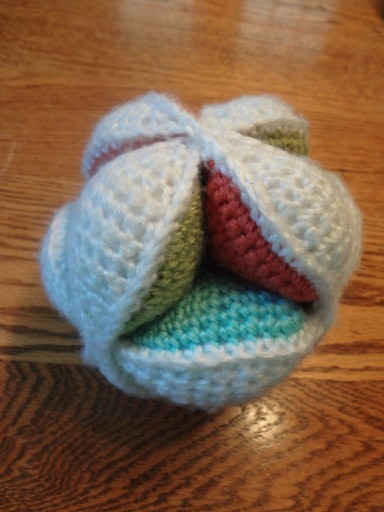 I stumbled upon this pattern while randomly surfing the googlynets and just knew Liam needed one. And by Liam, I mean me. It is so fun. The ball is made up of 3 rings, and the puzzle is figuring out how to put them together to form the ball. It isn't hard, but still causes people a moment's pause before they get it. And I enjoy it thoroughly.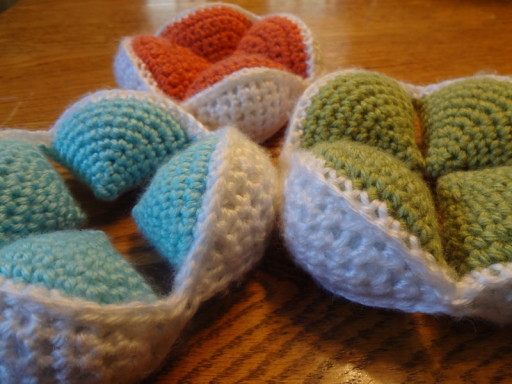 This pattern comes from Dedri at Look What I Made, and she does a beautiful job with the tutorial. It is super easy to follow. While you are there, check out her Amigurumi Amish Puzzle Animals. I haven't had a chance to make any yet, but they sure are cute and some are offered as free patterns.
There is one thing I would change about the pattern as written. In the tutorial, Dedri recommends making the wedges in rows and keeping the seam on the outside. She says this helps keeps the ball together. I made the first ring this way and but I just hated the seam. The pattern does mention doing the wedges in a spiral as an alternative. This is my preferred method. I learned to crochet doing amigurumi, so continuous rounds come more naturally to me. Plus I think they just look nicer and I had no problem getting the ball to stay together.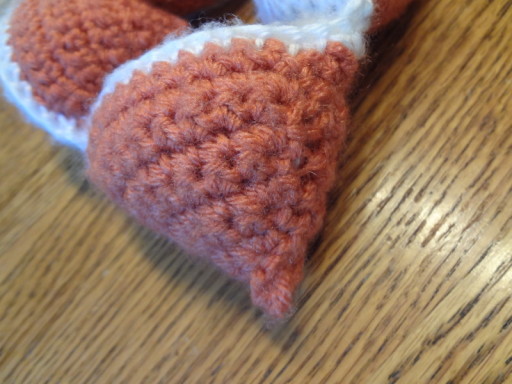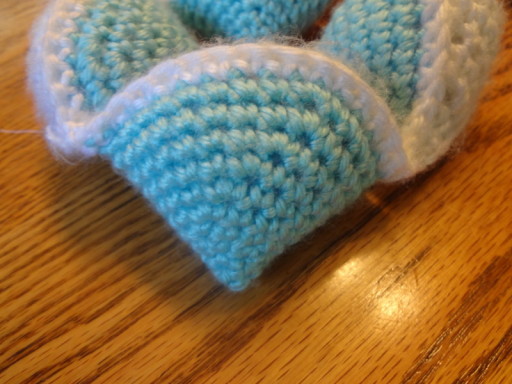 If you decide spiral wedges are for you, I rewrote the pattern. It is the same as the rows, only you don't chain one at the end and continue without turning. Use a stitch marker to mark the beginning of each round.
Sc 3 in magic ring
2 Sc in each st around. (6)
(Sc 1, 2 sc in next sc.) repeat 3 times around. (9)
(Sc 2, 2 sc in next sc) x3. (12)
(Sc 3, 2 sc in next sc) x 3. (15)
(sc 4, 2 sc in next sc) x 3. (18)
(Sc 5, 2 sc in next sc) x 3. (21)
(Sc 6, 2 sc in next sc) x 3. (24)
(Sc 7, 2 sc in next sc) x 3. (27)
(Sc 8, 2 sc in next sc) x 3. (30)
Since Liam's puzzle ball was a hit, I of course wanted to make one for my new niece.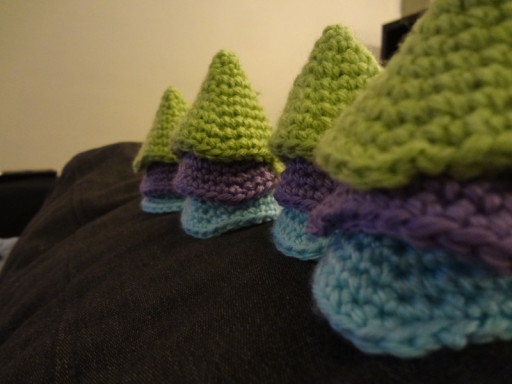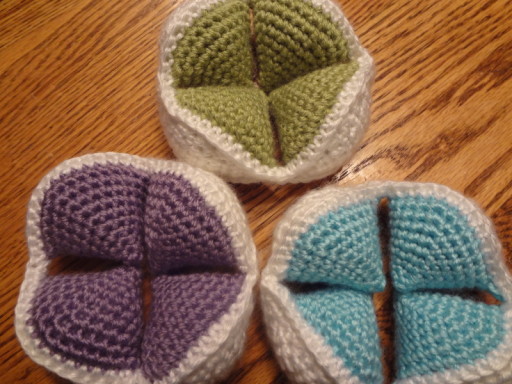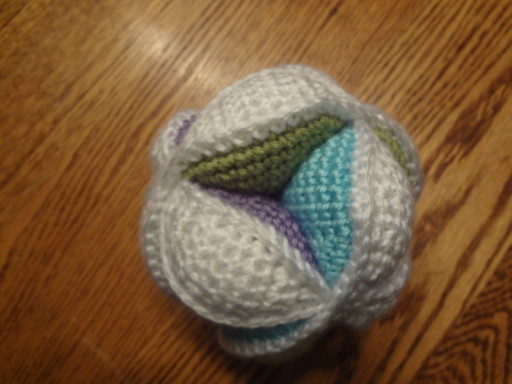 The pattern calls for a 4.0 mm hook. My F hook is 3.75 mm and my G hook is 4.25. When I made Liam's, I went with the G hook, which worked fine, but until recently the ball was a little big for him to handle. Since my second attempt was for a brand new baby, I wanted her to be able to play with it sooner, so I decided to use the F hook. I think I like the smaller ball better. The stitches are a bit closer together, so its easier to hide the stuffing, and the ball is easier for little hands to grab. Here is a side-by-side comparison.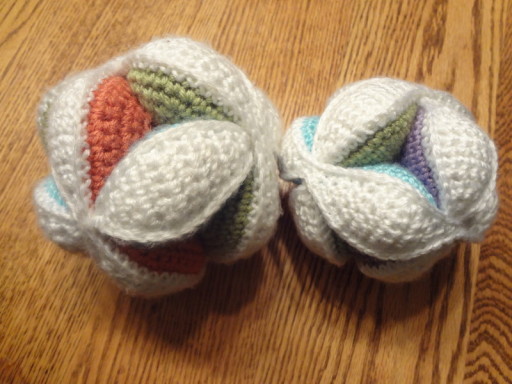 And here are a couple pics of Liam enjoying his toy. My niece is only a month old, so she hadn't gotten a chance to use hers yet, but I'm sure she'll love it just as much.