My parents have an absolutely beautiful cherry tree growing in their front garden. It produces thousands of bright red, deliciously tart cherries. And they don't eat a single one of them. Too sour they say. "So why do you even have the tree?" I asked. "Because it looks pretty when it blossoms in the spring, and the birds like the fruit." What a waste. And there are still plenty cherries for the birds after I've had my fill. So each year I come armed with an ice cream bucket and step ladder and have at it.
Now, I think the cherries are fabulous all by themselves, I eat nearly as many as I put in my bucket, but I recognize that they are very tart and are not everyone's cup of tea. However, they are perfect for baking. The tart cherries paired with some sort of sweet topping in a pie, cake, or crisp is what summer is supposed to taste like.
A couple years ago, I used all my google-fu to find a recipe using tart cherries and found nothing. Or nothing appetizing at least. So I did what anyone with buckets full of cherries would do. I winged it by substituting the cherries for other fruit in various recipes. But the cherries are tarter than berries or apples or peaches and most recipes required adding more sugar than they called for, otherwise no one but me would eat the results. But too much sugar made the rest of the recipe too sweet. The solution: rhubarb. I found that the cherries worked wonderfully in any rhubarb recipe I tried, since the recipes obviously have enough sugar to cut the tartness of rhubarb. And on the plus side, since my family is wrong won't eat rhubarb, I can still make use of the delicious rhubarb recipes I have. (This doesn't actually stop me from baking with rhubarb, I LOVE rhubarb. I just don't bring it to any potluck type events.)
My favorite rhubarb recipe is this Big Crumb Coffee Cake from Smitten Kitchen. And the cake was equally fabulous with cherries when I made it last year. However, by the time I pitted my bucket of cherries last night, it was late and I didn't have the energy to bake a whole cake. (Last year was pre-baby. Time and energy were both more abundant.) And I found I was frightfully low on some baking staples… how on earth did I run out of brown sugar without noticing? So I needed something simple, like a crisp. But the hubby raves about the topping on the coffee cake. So, a crisp made with the coffee cake topping. Ding Ding Ding we have a winner.
Super easy, super tasty.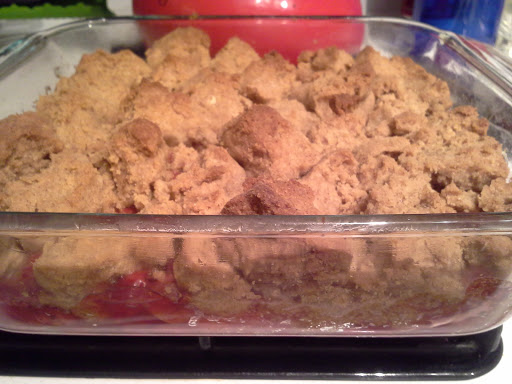 Tart Cherry Crisp
2013-09-23 12:08:02
Crisp, cobbler, crumble... who cares
For the fruit
5 cups pitted tart cherries
1/3 cup sugar
2 Tbs flour
1 tsp ground ginger
For the topping
1 stick (1/2 cup) butter, melted
1/3 cup dark brown sugar
1/3 cup granulated sugar
1 tsp ground cinnamon
1/2 tsp ground ginger
1/8 tsp salt
1 1/2 cups flour
Instructions
Preheat oven to 350 degrees. Grease an 8-inch square baking dish.
Mix cherries, sugar, flour and ginger in a medium bowl. Spread in the prepared dish.
In a large bowl, whisk the sugars, cinnamon, ginger and salt into the melted butter. Add 1 cup of flour and mix with a wooden spoon. Continue adding flour by the 1/4 cup until the mixture resembles a solid dough. If you add too much flour the crumbs become too dry and won't stick together.
Using your hands, break the crumb "dough" into big crumbs and sprinkle over the fruit. The size does not need to be uniform.
Bake until the crumbs turn a golden brown, 40-45 minutes. Let cool slightly before serving to allow the cherries to set up. Delicious warm over ice cream.
Crafty Cori Strikes Again http://craftycori.com/