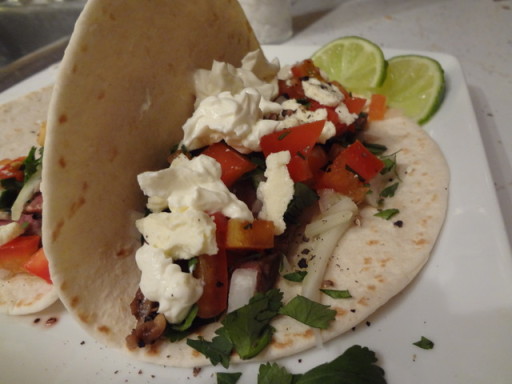 A year ago we were in Mexico on an amazing family vacation with my parents and my sister and her boyfriend. It was awesome. Beaches, pools, all you could eat and drink all-inclusive paradise. The part I miss most, the tacos. The resort had a little taco stand that was hidden in a remote section of the grounds, and it served the best tacos I have ever tasted. I think the big difference is that they used fresh ingredients. Being used to your standard ground beef tacos with some Pace salsa, lettuce and cheese on top, these hardly fit my definition of taco. Perfectly seasoned steak, fresh tomatos, onions and cilantro, a squeeze of lime. To die for. So of course upon returning to Minnesota we did our best to try to mimic these amazing tacos at home. Here is what we, and by we I mean Ryan, came up with. We prefer to grill the steaks, but that's not always possible in Minnesota in the winter. Also finding cojita chese is a bit hit or miss at our local supermarket, but we've found feta makes a perfectly acceptable substitute.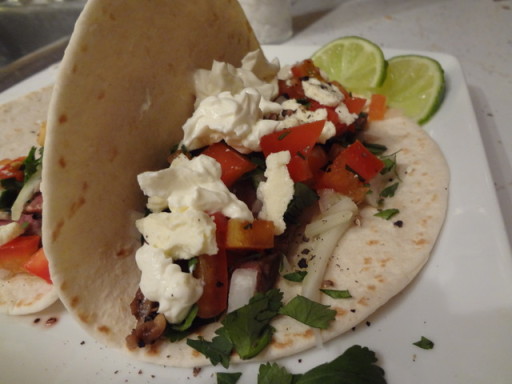 Steak Tacos
2013-09-23 14:08:31
Ingredients
16 oz sirloin steak
1/2 cup olive oil
1/4 cup soy sauce
3 cloves garlic, minced
2 tbsp ground black pepper
1 tbsp balsamic vinegar
1 tbsp Worcestershire sauce
1 tomato, diced
1/2 white onion, diced
1/2 chopped fresh cilantro
1 lime, cut into wedges
1/4 cup crumbled cojita or feta cheese
salt
pepper
flour tortillas
Prepare Steak
Prepare marinade for steak. Mix oil, soy sauce, pepper, vinegar, and Worcestershire sauce in a gallon freezer bag. Add steak and coat with marinade. Place in refrigerator for 3 hours.
Cook steak to your liking. Preferably on a grill, approximately 6 minutes per side for medium rare. Otherwise cook inside, sear in a very hot pan, about 4 minutes on each side. Cook in a 250 degree oven until it reaches the temperature for your desired doneness, About 10 minutes for medium rare. Allow to rest for 10 minutes. Slice into strips.
Prepare tacos
Place 3 or 4 strips of steak on a tortilla. Top with tomato, onion, cilantro, cheese, salt & pepper and a squeeze of lime. Optional toppings include sour cream and/or Tabasco sauce.
Crafty Cori Strikes Again http://craftycori.com/