Chocolate-Raspberry Torte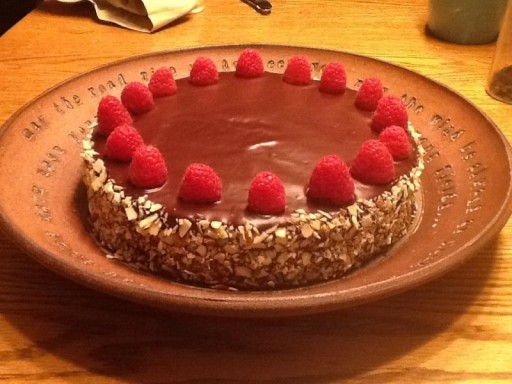 I am behind in my posts again. This one is for Valentines Day. Ryan and I aren't big Valentine's Day people. I don't need a card or flowers or chocolates just because the calendar states it's the proper day to do so. Instead we have what I think is a much better tradition. We cook each other a fancy dinner, something that we normally would never make. We make a special trip to Kolwalski's to get top notch ingredients, then spend the day preparing an awesome meal. Our results vary. Sometimes the recipes are slightly beyond us, sometimes we realize we just don't like fancy food. This year was probably one of the best we've had: poached salmon, sauteed asparagus, horseradish mashed potatoes, and for dessert chocolate-raspberry torte. Now I've mentioned before that I can't cook, so Ryan handled the main course. It was good, but nothing spectacular. (Which is way better than we normally manage, I might add. The cod en papillote with orange and fennel two years ago was barely edible.) My torte on the other hand, was a thing of beauty, and delicious too. I hadn't made a layer cake before, had no idea where to buy cardboard rounds (Walmart), and needed to borrow my mom's round cake pans and cooling rack, but it turned out fantastic. The recipe is from America's Test Kitchen, and they rarely steer me wrong (though the cod recipe did come from their magazine).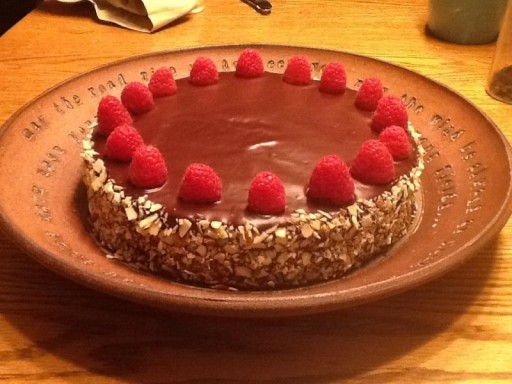 Chocolate-Raspberry Torte
2013-09-23 13:35:49
Ingredients
8 ounces bittersweet chocolate , chopped fine
12 tablespoons (1 1/2 sticks) unsalted butter , cut into 1/2-inch pieces
2 teaspoons vanilla extract
1/4 teaspoon instant espresso powder
1 3/4 cups (about 7 ounces) sliced almonds , lightly toasted
1/4 cup unbleached all-purpose flour (1 1/4 ounces)
1/2 teaspoon table salt
5 large eggs
3/4 cup (5 1/4 ounces) sugar
1/2 cup fresh raspberries , plus 16 individual berries for garnishing cake
1/4 cup seedless raspberry jam
5 ounces bittersweet chocolate , chopped fine
1/2 cup plus 1 tablespoon heavy cream
FOR THE CAKE
Adjust oven rack to middle position and heat oven to 325 degrees. Line bottom of two 9-inch-wide by 2-inch-high round cake pans with parchment paper. Melt chocolate and butter in large heatproof bowl set over saucepan filled with 1 inch simmering water, stirring occasionally until smooth. Remove from heat and cool to room temperature, about 30 minutes. Stir in vanilla and espresso powder.
Process 3/4 cup almonds in food processor until coarsely chopped, six to eight 1-second pulses; set aside to garnish cake. Process remaining cup almonds until very finely ground, about 45 seconds. Add flour and salt and continue to process until combined, about 15 seconds. Transfer almond-flour mixture to medium bowl. Process eggs in now-empty food processor until lightened in color and almost doubled in volume, about 3 minutes. With processor running, slowly add sugar until thoroughly combined, about 15 seconds. Using whisk, gently fold egg mixture into chocolate mixture until some streaks of egg remain. Sprinkle half almond-flour mixture over chocolate-egg mixture and gently whisk until just combined. Sprinkle in remaining almond-flour mixture and gently whisk until just combined.
Divide batter between cake pans and smooth with rubber spatula. Bake until center is firm and toothpick inserted into center comes out with few moist crumbs attached, 14 to 16 minutes. Transfer cakes to wire rack and cool completely in pan, about 30 minutes. Run paring knife around sides of cakes to loosen. Invert cakes onto cardboard rounds cut same size as diameter of cake and remove parchment paper. Using wire rack, reinvert 1 cake so top side faces up; slide back onto cardboard round.
TO ASSEMBLE TORTE
Place ½ cup raspberries in medium bowl and coarsely mash with fork. Stir in raspberry jam until just combined. Spread raspberry mixture onto cake layer that is top side up. Top with second cake layer, leaving it bottom side up. Transfer assembled cake, still on cardboard round, to wire rack set in rimmed baking sheet.
FOR THE GLAZE
Melt chocolate and cream in medium heatproof bowl set over saucepan filled with 1 inch simmering water, stirring occasionally until smooth. Remove from heat and gently whisk until very smooth. Pour glaze onto center of assembled cake. Use offset spatula to spread glaze evenly over top of cake, letting it flow down sides. Spread glaze along sides of cake to coat evenly.
Using fine-mesh strainer, sift reserved almonds to remove any fine bits. Holding bottom of cake on cardboard round with 1 hand, gently press sifted almonds onto cake sides with other hand. Arrange raspberries around circumference. Refrigerate cake, still on rack, until glaze is set, at least 1 hour and up to 24 hours. Transfer cake to serving platter, slice, and serve.
Adapted from Americas Test Kitchen
Adapted from Americas Test Kitchen
Crafty Cori Strikes Again http://craftycori.com/