As I mentioned earlier, last week we had some friends over for dinner and as promised here is the recipe for our main course, one-skillet baked ziti. It is Ryan's go to recipe whenever we have dinner guests. It is easy and delicious, makes enough to feed about six adults, and always goes over well, even with picky eaters. The recipe originally comes from America's Test Kitchen, but we wrote it down ourselves from the TV broadcast, so I don't feel guilty sharing it here.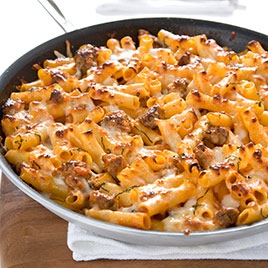 One Skillet Baked Ziti
2013-09-23 18:55:20
Serves 4
Ingredients
1 tablespoon oil
6 cloves garlic, minced
1 tsp red pepper flakes
1 can crushed tomatoes
3 cups water
12 ounces ziti noodles
1⁄2 teaspoon salt
1⁄2 cup heavy cream
1⁄2 cup Parmesan cheese, grated
1⁄4 cup basil, chopped
4 cups mozzarella, shredded
Instructions
In a cold pan, put oil, garlic and red pepper flakes. Cook over medium high heat until fragrant.
Add tomatoes, water, noodles and salt. Increase to high heat and stir to combine.
Cover and reduce heat to medium. Cook for 15 to 18 minutes, stirring occasionally.
Add cream, parmesan and most of basil. Sprinkle mozzarella over top. Bake at 475 for 10 to 15 minutes until cheese browns.
Remove from oven and sprinkle with remaining basil. Let stand at least 5 minutes before serving.
Adapted from America's Test Kitchen
Adapted from America's Test Kitchen
Crafty Cori Strikes Again http://craftycori.com/