As I previously mentioned, these are tastier than Reese's, but they are a pain to make. Not hard, just futzy. They are a long-standing tradition in our family. My mom used to make them, and when she stopped I started. I decided they were too much work last year and skipped them, opting for chocolate dipped peanut butter ritz sandwiches instead. I had several complaints so they are back this year.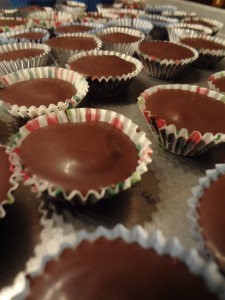 Homemade Peanut Butter Cups
2013-09-24 12:09:51
Just like Reese's. Only better.
Ingredients
1 cup creamy peanut butter
2 cups powdered sugar
1 stick butter, melted
1 1/2 pounds chocolate bark
3/4 pounds chocolate candy bar
Instructions
Mix peanut butter, powdered sugar and butter with mixer. Cool in refrigerator 1 hour or until firm.
In a double boiler, melt chocolate bark and chocolate bar.
Roll peanut butter mixture into 72 half inch balls.
Fill petit fours cups 1 quarter full of melted chocolate. Place a peanut butter ball into each cup. Let chocolate set up.
Once chocolate sets enough for cups to be easily handled, flatten balls slightly and cover with additional chocolate.
Chill until firm.
Notes
Makes approximately 72 candies.
Crafty Cori Strikes Again http://craftycori.com/