These were a new recipe this year. I found them on Pinterest. You can get the recipe from Peppermint Plum. Super easy and totally yummy. I do recommend remembering to grease the pan. I forgot to do so and getting the caramel off the bottom of my pan without totally mangling the crackers was tricky, but nothing a good spatula and a little elbow grease couldn't solve.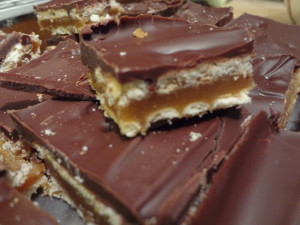 Homemade Twix Bars
2013-09-24 11:53:55
Ingredients
48 Club Crackers
1 sleeve graham crackers (enough to make 1 cup of crumbs)
1/3 cup sugar
3/4 cup brown sugar
1/3 cup milk
1/2 cup butter
1 1/2 cups semi-sweet chocolate chips
1 1/2 cups vanilla baking chips
Instructions
Place one layer of Club Crackers in a lightly greased 13×9 casserole dish.
Use your food processor or blender to make graham cracker crumbs, and pour into a heavy sauce pan. Combine remaining ingredients into pan and heat over medium heat until it comes to a boil, stirring constantly. Boil for 5 minutes, continuing to stir. It should look and smell like caramel.
Carefully pour mixture over crackers.
Immediately place another layer of Club Crackers on top, pushing them down into the caramel mixture gently.
Melt chocolate chips in microwave and pour on top of crackers.
Refrigerate until cool, and then cut and serve.
Notes
If you do not have vanilla chips, you can use 3 cups chocolate chips, or a combination of milk chocolate, semi-sweet, and vanilla to achieve your desired chocolate flavor.
Adapted from Peppermint Plum
Crafty Cori Strikes Again http://craftycori.com/