Another Pinterest find, these cookies could not be easier to make. My shoddy photography doesn't do their festive green and red color justice. And as a bonus, they are super yummy to boot. I am a bit of a baking snob and usually shy away from recipes where the main ingredient is a premade mix, but these were so good I'm making an exception. Many thanks to The Girl Who Ate Everything for posting the recipe. It is originally from Betty Crocker.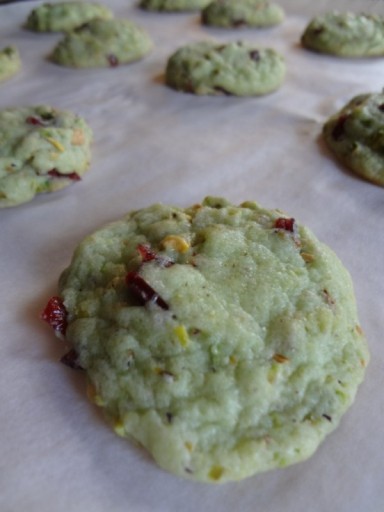 Cran-Pistachio Cookies
2013-09-23 21:38:07
Ingredients
1 pouch Betty Crocker Sugar Cookie Mix
1 box (4 serving size) pistachio instant pudding and pie filling mix
1/4 cup flour
1/2 cup butter, melted
2 eggs
1 cup dry roasted salted pistachio nuts, chopped
1/2 cup dried cranberries, chopped
Instructions
Preheat oven to 350 degrees.
In a large bowl stir cookie mix, pudding, and flour. Add melted butter and eggs and stir until incorporated.
Add pistachios and cranberries and mix well.
Drop by rounded spoonfuls onto a parchment lined cookie sheet.
Bake for 8-10 minutes. The only way you can ruin these cookies is to overbake them! If you bake them too long you will lose the soft texture and they won't be as green. They will not look done but take them out and let them sit on the pan for about 2 minutes. Trust me.
Cool on a wire rack. Store in an airtight container.
Notes
Makes 3 dozen
Adapted from Betty Crocker
Adapted from Betty Crocker
Crafty Cori Strikes Again http://craftycori.com/